3 Best Pet Insurances
for Great Danes Reviewed
Which Offers The Most Coverage For Your Money?

Great Danes are soft and majestic giants who make great companions, but they need special attention and care to live a happy and healthy life. These dogs may bring their pet parents huge veterinary bills for critical conditions, such as heart enlargement and bloating. Given their several health problems, buying dog insurance for your canine friend can be worth your while down the road.
The 3 top pet insurances for Great Danes are...
Embrace Pet Insurance 
Petplan Insurance 
Trupanion Pet Insurance
All 3 offer comprehensive, excellent coverage but there are differences in plans as well as pricing. Price quotes from Embrace, Petplan, and Trupanion are quick to acquire and 100% free.
In this article, you will learn about these dog insurance companies in great detail. You will also get to know about the pros and cons of the pet insurance plans they offer. Read More Below...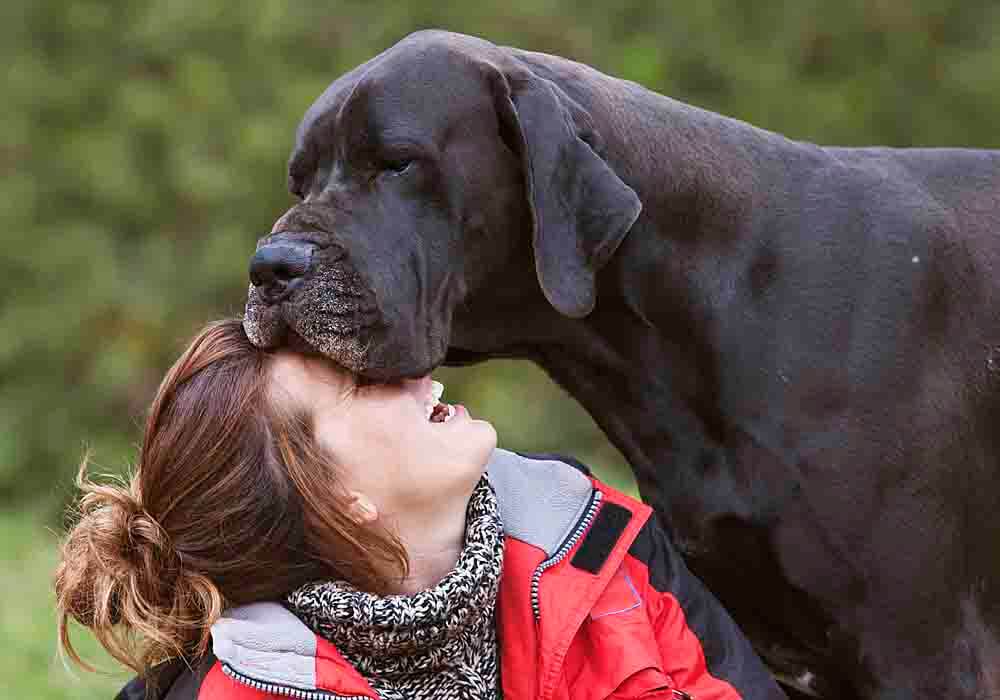 Great Dane Health Issues Needing Insurance
Great Dane may require regular check-ups to stay healthy and prevent health problems. Some of the health problems that can affect your dog are:
Bloat - Also known as GDV happens when the stomach twists or distends and can be very serious and even life threatening. It comes on unannounced and needs veterinarian care as quickly as possible which can be expensive.
Aortic Stenosis - It happens when the aortic valve of the heart narrows down.
Hip Dysplasia - It is an inherited disease that is mainly due to the improper formation of the hip joint.
Myotonia - Myotonia is a muscle disease characterized by the inability of a muscle to relax after contraction.
Lick Granuloma - It is an injury to your Great Dane's skin caused by persistent licking.
Entropion - Entropion is a condition in which your pet's lower eyelid rolls inwards.
Osteochondrosis - It is a condition that affects the joints of young, fast-growing dogs, including Great Danes.
Wobbler Syndrome - Wobbler Syndrome is a disease that affects the neck of your Great Dane and leads to incoordination.
Demodicosis - Demodicosis is a skin disease in dogs caused by parasitic mites. 
It's worth noting that bills from the vet can add up quickly for pet owners who are not insured. So, it would be wise to buy pet insurance for your Great Dane.


Embrace Pet Insurance
Embrace's dog insurance offers coverage for diseases and accidents while letting you make a pet insurance policy that best suits your dog's requirements and your budget as well. While Embrace customers pay $39 to $56 each month for pet insurance, you may have to pay less or more depending on what deductible you opt for and where you reside. A deductible is an amount you have to pay before you can begin getting reimbursed. 
With the company's dog insurance plan, your canine friend can go to any veterinarian in the country, such as specialists and emergency clinics. Your dog insurance policy will compensate you for homeopathic treatments, surgery, alternative treatments, diagnostics, and exam fees.
What's more, Embrace provides Wellness Rewards that you can purchase along with any pet insurance plan. The Wellness Rewards covers training, grooming, vaccinations, and routine visits for your Great Dane.


What's Covered
Dental illness up to $1,000 per year
Consultation fees
Chronic conditions
Nursing care, hospitalization, and surgery
Behavioral therapy
Illnesses and accidents  
Specialist care
Diagnostic testing and imaging
Alternative therapies and rehabilitation
Cancer treatment
Prescription drugs


What's Not Covered
DNA cloning and testing
Whelping and breeding
Cosmetic procedures like tail docking, ear cropping, and declawing
Pre-existing conditions
Factors that will determine your dog insurance policy's cost are annual maximum, reimbursement, annual deductible, location, and age.


Pros
Quick reimbursement
Diminishing deductible
Routine care plan


Cons
Rate increases
Age limit for new enrollments



Petplan Pet Insurance
The cost of dog insurance can vary from $20 a month to $100 per month or more. Petplan does its best to cater to your dog's needs through flexible reimbursement options. 
Additionally, the pet insurance company covers the COVID-19 virus in dogs and reimburses up to $1,000 for online visits to the veterinarian with a deductible or no copay applied. Plus, they cover boarding fees for your Great Dane if you are hospitalized for four days.
What's the best thing about Petplan is that it provides insurance for puppies as young as six weeks, with no age limits on chronic or hereditary conditions for your canine friend at any time. It's no wonder it's considered one of the best pet insurance for Great Danes.


What's Covered
Non-routine dental treatments 
Holistic therapies
Specialist treatment
Referral treatment
Cancer treatments
Prescription medications
Diagnostic treatments
Veterinary exam fees


What's Not Covered
Elective procedures
Pre-existing conditions
Preventive and routine visits


Pros
Claims are paid quickly, usually within one week
The company covers examination fees for sick visits
Immediate 5% discount for people who buy coverage online


Cons
If you buy Petplan pet insurance, you need to have regular dental health and check-ups, and these check-ups are not covered
You need to fulfill certain requirements for coverage to come into effect, such as taking your Great Dane to the veterinarian within 48 hours of sickness or injury.


Trupanion Pet Insurance
Trupanion pet insurance covers 90% of your Great Dane's unexpected injuries and illnesses, including surgeries, medications, diagnostic tests, and hospital stays. 
Trupanion has special software that allows them to pay your veterinarian directly in minutes at the time of checkout. It means that you do not have to pay upfront and wait for reimbursement. You only have to pay your portion, and Trupanion will pay the rest of the amount.
The dog insurance company will determine your Great Dane's monthly price by considering factors, such as additional coverage, gender, location, deductible, and age of your Great Dane at enrollment.
Once you receive a quote, you can opt for your Great Dane's monthly price by choosing a deductible from $0 to $1,000. So, you have the flexibility to choose a price plan that fits your budget. 
Trupanion can help you choose the deductible that is best for your Great Dane. Your dog's premium will not automatically increase just because he gets older, or you filed a claim.
Apart from this, the company's policy provides optional packages that can protect you from unanticipated situations related to your Great Dane. They offer additional coverage for rehabilitative treatments. However, these packages come at an extra cost.


What's Covered
Prosthetic devices and carts
Veterinary supplements
Medications
Hospital stays
Surgeries
Diagnostic tests
Injuries and illnesses


What's Not Covered
Pre-existing conditions (a condition that happened before your Great Dane's coverage effective date)
Prevention and wellness care
Sales tax where applicable
Exam fees


Pros
Customized deductible 
High coverage level
No payout limits
Use at any veterinarian


Cons
Exams are not covered
30-day waiting period
Higher-than-average monthly premiums


Comparing Pet Health Insurances For Great Danes
Let's find out how these three pet insurances stack up against each other.


Conclusion

Great Danes come with a host of potential health problems, including cancer and bloating. Hence, you should get pet insurance for your Great Dane. Furthermore, you should get various quotes from different companies and compare them carefully before choosing a plan. 
Learn about the cost of the coverage and what is covered, and always remember to ask questions when you are not certain about something. You will be glad to know that the pet insurance companies support comparison, provide details about the coverage, and give online quotes. This will help you make an informed decision about the best pet insurance for Great Danes. 


Best Pet Insurances For Great Danes