Dogue de Bordeaux 101

by Ken Alden
Top 30 Common Questions Answered

The Dogue de Bordeaux — also known as the French Mastiff — is a handsome, affectionate, and loyal breed. If you're a prospective first-time owner, you probably have many questions about these dogs and if they're right for you. We break down the top 30 most common questions about the breed on this Dogue de Bordeaux 101 page
As an excellent guard dog and mellow, loving companion, the Dogue de Bordeaux is well-rounded and suitable for various households. If you can handle their large size, stubborn streak, and grooming and training needs, you'll be rewarded with a dedicated and intelligent protector.
The Dogue de Bordeaux is among the oldest and most famous French breeds. Read more below to learn more about these strong and affectionate dogs, their personalities, and the type of households they're best suited for.

Pro-tip: Ever try lifting a Mastiff? Their weight can hurt not only your back but their joints when they hop down from cars, sofas or even your bed. To protect your back and theirs check out the best Mastiff ramps on Amazon.com now.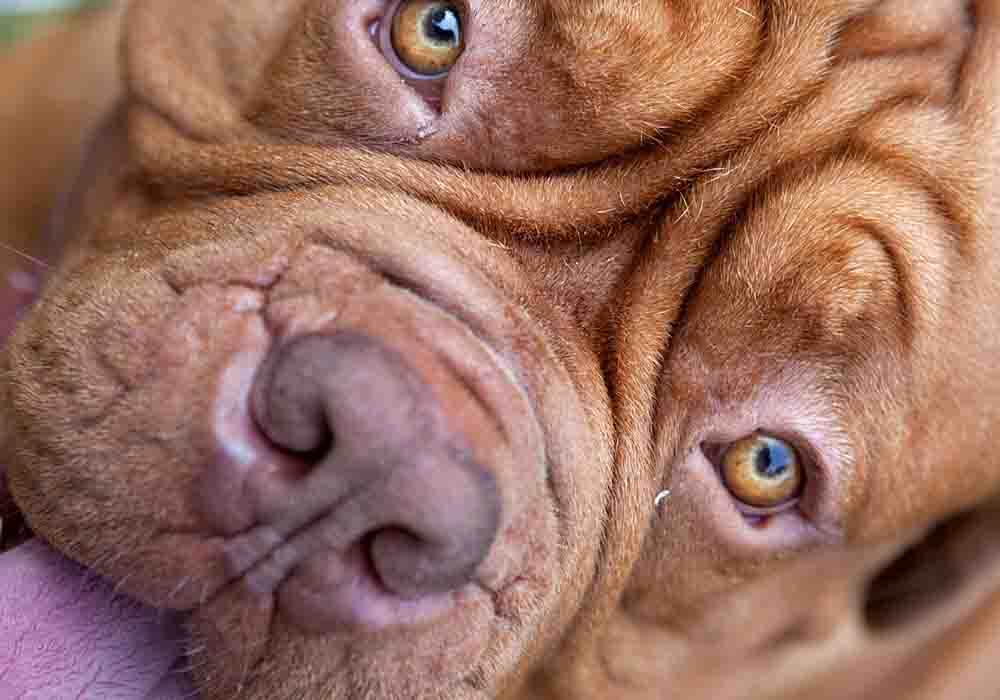 Dogue de Bordeaux 101...
Are Dogue de Bordeaux a Good Family Dog?
Thanks to their affectionate, loyal, and calm nature, the Dogue de Bordeaux is an excellent family dog. They aren't particularly friendly towards strangers, and they take time to develop bonds with the humans they live with, but they're fiercely loving once they warm up to them.
Keep in mind that this breed may be too large and clumsy for small children and babies. Additionally, if you have other animals in the home, your Dogue de Bordeaux may not be very appreciative of them. However, they can certainly learn to tolerate other dogs and cats with proper training and socialization.


Are Dogue de Bordeaux Affectionate?
This breed is highly affectionate towards the people it has developed a close bond with. They can be somewhat aloof and standoffish at first, but in due time and when treated with respect, they'll become highly loving and caring.
If you want a dog that will cuddle with you and always want to be by your side, this breed is an excellent candidate.

Pro-tip: Mastiff anxiety, aggression, destructive chewing, jumping up, fearfulness, and other behaviors can be controlled with the right training program.
Here's a great course that addresses these issues along with many other dog training basics: Check it out now!


Are Dogue de Bordeaux Aggressive?
Although they're very stubborn at times, the Dogue de Bordeaux's aggression level is fairly low. To prevent any potential aggressive behavior, it's best to enroll your dog in obedience training as early as possible. With consistent training and socialization, you won't have any issues with aggression with this breed.
Are Dogue de Bordeaux Dangerous?
Don't be fooled by these dogs' gigantic and intimidating stature; they're actually very gentle and affectionate when trained by a persistent, diligent owner who is willing to put up with their occasional stubbornness.
However, in rare cases, the Dogue de Bordeaux can be aggressive, mainly if they're raised in an abusive household or allowed to dominate their owners with their headstrong nature. Be firm and consistent with obedience training to prevent your dog from becoming aggressive.


Are Dogue de Bordeaux Easy To Train?
The Dogue de Bordeaux needs a thorough training regimen to thrive and remain well-behaved. Overall, the breed is moderately intelligent and trainable, but their individualistic nature and stubborn tendencies somewhat hinder them.
Begin training your dog as early as possible, at around 10 to 12 weeks, to ensure things go smoothly.


Are Dogue de Bordeaux Good With Babies?
While this breed is very affectionate and mellow, it may be best to avoid bringing them into households with babies, as these dogs can sometimes be unaware of their size and strength. The same goes for small children: wait until they're a bit older to play with these dogs. 
The Dogue de Bordeaux is exceptionally muscular and strong, so they can be too much for small children and babies to handle.


Pro-tip: Mastiff's (and their owners) love dog crates…and for good reasons. Crates keep dogs from mischief while you're away, are perfect for house training, for traveling by car, and provide the dog a place to de-stress. Check out the best Mastiff crates on Amazon.com now.


Are Dogue de Bordeaux Good With Cats?
Despite greatly enjoying sharing their living spaces with other humans, the Dogue de Bordeaux doesn't particularly enjoy being around cats. This is especially true if you don't socialize them properly early on. 
This breed tends to be aggressive towards cats and other small animals, and due to their enormous size and brutish strength, they're too large to interact with most cats safely.


Are Dogue de Bordeaux Good With Other Dogs?
In addition to not enjoying the company of other animals, the Dogue de Bordeaux generally does not like living with other dogs. However, this varies depending on the dog. Some individuals will fare well with other dogs of a similar size and energy level if introduced and socialized from a very young age.


Are Dogue de Bordeaux Hypoallergenic?
If you're allergic to dogs, you're better off avoiding this dog breed. Despite having a relatively short coat compared to long-haired breeds like the Golden Retriever, the Dogue de Bordeaux constantly sheds year-round and produces plenty of dander, aggravating allergies.


Are Dogue de Bordeaux Intelligent?
The Dogue de Bordeaux is moderately intelligent and generally receptive to training, especially if the training is implemented while they're still very young. As a working breed, they greatly enjoy performing complex tasks and are quite receptive to their owners' emotions.


Are Dogue de Bordeaux Lazy?
Perhaps "lazy" isn't the best word to describe this breed. However, they're very mellow and have a relatively low energy level. These dogs are content to nap for most of their days, but they should still get regular exercise to stay healthy, happy, and motivated.


Are Dogue de Bordeaux Loyal?
The Dogue de Bordeaux will take some time to develop a bond with the humans they live with, but once they do, they're intensely loyal companions. If you're interested in a dog that will want to be by your side at all times, the Dogue de Bordeaux is a great choice.


Are Dogue de Bordeaux Protective?
While they tend to be mellow and laid-back, the Dogue de Bordeaux is a fierce protector when their owners are in danger. With proper and consistent training, this breed is among the best guard dogs in existence.


Are Dogue de Bordeaux Stubborn?
One of this breed's only personality downfalls is its stubbornness and headstrong nature compared to other similar breeds. To prevent your Dogue de Bordeaux from becoming overly defiant and lazy, it's best to seek obedience training as soon as you bring them home.


Can Dogue de Bordeaux Be Left Alone?
The Dogue de Bordeaux does fine being left alone for short periods, but try to avoid leaving them by themselves for the entire day, as they can become bored and anxious without you near them. Because of the strong bonds they tend to develop with their owners, they don't like being left alone for hours on end.


Can Dogue de Bordeaux Live Outside?
The Dogue de Bordeaux shouldn't be left outside unattended for long periods, and they definitely shouldn't live outside permanently. These highly emotional, sensitive, and affectionate dogs need to be a part of your daily life and will strongly prefer living in your home by your side.


Do All Dogue de Bordeaux Drool?
One of the downsides of adopting a Dogue de Bordeaux is that they drool heavily and constantly. If you notice your dog is about to shake its head, look out for flying strings of drool.
Keep an eye out for drools accumulating in the wrinkles and creases around your dog's mouth and neck, and clean their faces often. Be prepared for lots and lots of drool.


Do Dogue de Bordeaux Bark A Lot?
This breed doesn't bark much, in part thanks to their calm and laid-back disposition. However, if they become stressed or are left alone, they may become more vocal. Overall, though, they're very quiet and relaxed dogs who tend not to bark very often.


Do Dogue de Bordeaux Have Webbed Feet?
Interestingly, the Dogue de Bordeaux is one of the few dog breeds that have webbed toes. These webbed feet benefit them greatly in their unique ability to swim, making them skilled and powerful swimmers. If you enjoy hopping in the pool or going to the lake, this is the breed for you.


Do Dogue de Bordeaux Like Water?
Dogues de Bordeaux generally love water, and swimming is a perfect exercise for them as it doesn't put much stress on their joints and bones. Thanks to their unique webbed feet, swimming and their love of water come naturally to them.


Do Dogue de Bordeaux Make Good Guard Dogs?
Although they're overall very relaxed and easygoing dogs, the Dogue de Bordeaux will leap into action if the humans they love need protecting. This breed is a top-notch guard dog and an extremely loyal protector; just be sure to train them properly first.


Do Dogue de Bordeaux Need a Lot of Exercise?
Since they have a fairly low energy level, the Dogue de Bordeaux doesn't need rigorous exercise. Still, you should aim to take your dog on short walks and the occasional swim to keep them active and prevent them from becoming overweight or bored.


Do Dogue de Bordeaux Shed a Lot?
The Dogue de Bordeaux has a short coat, but it constantly sheds all year long. You're best off having a lint roller handy at all times if you want to prevent tiny hairs from appearing on all of your belongings and furniture.


Do Dogue de Bordeaux Smell?
Even though this breed does have the typical dog smell present in almost every breed, they aren't especially smelly if they're bathed regularly. With proper grooming, you shouldn't experience any unusual or unpleasant smells from your Dogue de Bordeaux.


How Big Do Dogue de Bordeaux Get?
The Dogue de Bordeaux is a giant breed, growing to around 150 pounds or more in some cases. They have wide, muscular bodies with broad heads, and they're also quite tall.
Interestingly, this breed also has one of the largest heads of any dog in existence. Be prepared for your Dogue de Bordeaux puppy to grow to a considerable size fairly quickly.


How Much Do Dogue de Bordeaux Cost?
The Dogue de Bordeaux is quite an expensive dog breed. If you're planning to buy your dog from a breeder, you should plan on spending upwards of $1,000. However, in rare cases, you might find a puppy for as much as $6,000.


Is a Dogue de Bordeaux Right For Me?
The Dogue de Bordeaux fares best in easygoing households with an owner who wants an affectionate yet intimidating protector who will jump to defend them in a crisis. These dogs don't enjoy being left alone for long periods, and they strongly prefer being involved in their owners' day-to-day lives.
Regular grooming and a small amount of light to moderate exercise are necessary to keep these dogs happy and healthy. Additionally, your initial investment will likely be in the thousands of dollars, as puppies are expensive, and obedience training can be pricey as well. 
If you can handle the cost, size, training, grooming, and somewhat emotionally needy personality of the Dogue de Bordeaux, then this dog is perfect for you.


At What Age Do Dogue de Bordeaux Stop Growing?
The Dogue de Bordeaux usually stops growing at around the 19-month mark, or roughly a year and a half into life. Expect puppy-like behavior well past the first year of your dog's life as they settle into eventual adulthood.


What Is the Life Expectancy of a Dogue de Bordeaux?
Because they're prone to several breed-specific health issues like bloat and hip dysplasia, the Dogue de Bordeaux's lifespan is lower than other comparable breeds. These dogs tend to live around 5-9 years, with some living longer in optimal care conditions.


When Do Dogue de Bordeaux Calm Down?
Your Dogue de Bordeaux will begin to calm down as they reach the end of their puppy stage at around 12 to 18 months of age. As they grow into their adult size, they mellow out considerably and become more well-behaved and calm dogs.


Conclusion...
The Dogue de Bordeaux is a fantastic protector and loyal, loving companion best suited to households with no other animals or small children. However, they can be pretty adaptable with the right amount of training from a young age. This breed thrives with owners who can put up with their occasional stubbornness and provide them with regular exercise and grooming.
Additionally, although they can be expensive and require a fair bit of training, this breed is a loving, easygoing companion and a diligent guard dog.


Return to the top of this Dogue de Bordeaux 101 page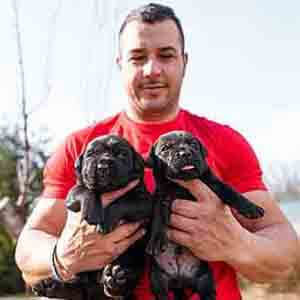 About the Author...
Ken Alden, a dedicated Mastiff owner for over eight
years, is acclaimed for his expertise in care, grooming, and training. Read more About Me and my dog Shadow.


Dogue de Bordeaux 101