Great Dane Lumps and Bumps

What Are They? Should You Be Concerned?
by Ken Alden

Great Danes are a good breed to keep as pets because they have a patient, dependable, and friendly temperament. But if you have this kind of dog or are planning to get one, it is also important to be aware of common health issues that affect their breed. One of the issues you should know about is that they are prone to lumps and bumps on their body. 
Great Dane lumps and bumps can either be benign tumors or signs of cancer like osteosarcoma. But even if not all tumors are cancerous, get your vet to evaluate them as soon as possible. These tumors can be removed, and if it is cancer, it's easier to treat if caught at an early stage.
Read on to know what exactly the lumps and bumps on your Great Dane mean, and the different kinds of tumors and masses can be found in dogs. This article also talks about the different treatment solutions for these tumors and whether surgery to remove these lumps will help your dog. Read More Below...

Pro-tip: Ever try lifting a Great Dane? Their weight can hurt not only your back but their joints when they hop down from cars, sofas or even your bed. To protect your back and theirs check out the best Mastiff ramps on Amazon.com now.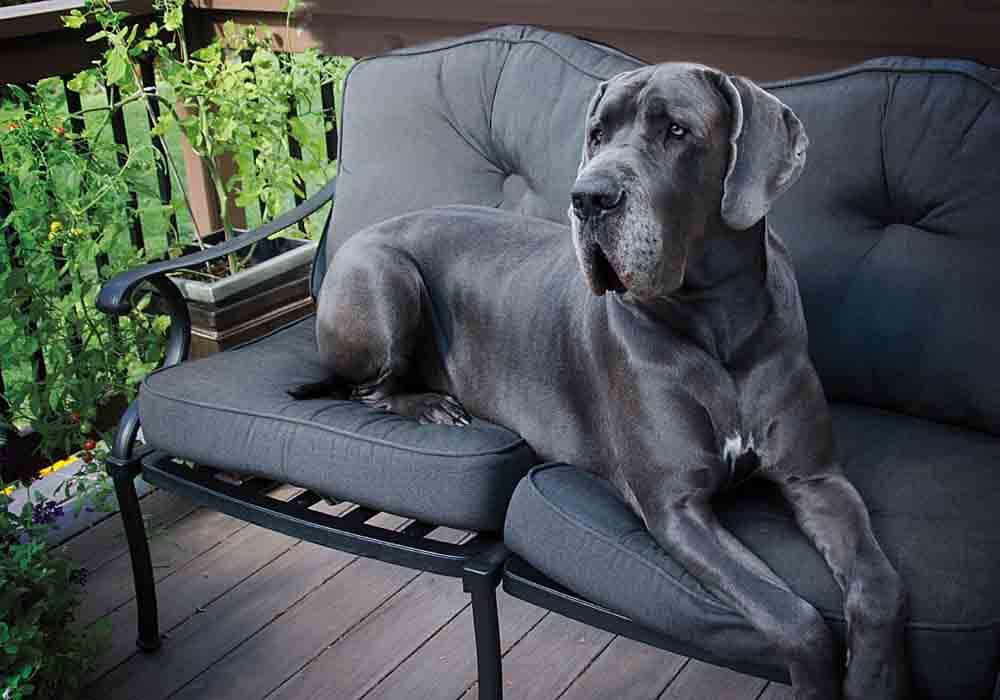 Great Dane Lumps And Bumps...Are They Common?
Lumps and bumps are common not only in Great Danes but in canines in general. However, Great Danes are prone to certain diseases such as bone cancer or osteosarcoma, whose symptoms include swellings and lumps in various parts of their body.
But just because osteosarcoma is commonly diagnosed in Great Danes, it does not mean that lumps found on them are already indicative of the disease. Like other dogs, Great Danes may have lumps that are non-cancerous and harmless, like skin tags, warts, histiocytomas, and lipomas. 
And because it can be difficult to tell what kind of lump or tumor your dog has just by looking at it or by feeling it, you will need to consult with your veterinarian. Only the vet will be able to give you professional input as to what the lump is about and how you can get rid of it.


Types of Canine Lumps and Bumps
There are many types of lumps that could develop in your dog. Most of them look the same when viewed from the outside, so you need to get your Great Dane's lumps examined before you make assumptions. Vets would usually take a sample of the lump to find out what it is exactly. 
Your dog's lumps can be any of the following:


Harmless Lumps
The lumps can be totally harmless. They can be:
Cysts. These are harmless, soft pockets of fluid that often appear quickly and change shape and size over time.
Abscesses. These are swellings filled with pus, and they are caused by an infection.
Skin tags. These are soft skin lumps similar to warts in appearance. They are usually attached to your dog's body by a small stalk, and they will increase in size over time. 
Hematomas. These are blood-filled swellings that are usually brought about by injury. A clotting problem can sometimes cause them.
Warts. Warts, also known as papillomas, are knobbly, uneven lumps that are usually pink or white and are often slow-growing. Hair may be seen coming from warts, and they are usually uncomfortable and problematic.
Pro-tip: Great Dane anxiety, aggression, destructive chewing, jumping up, fearfulness, and other behaviors can be controlled with the right training program.
Here's a great course that addresses these issues along with many other dog training basics: Check it out now!


Warts or Papillomas
According to Pet MD, papillomas are caused by a virus called papillomavirus, and it is transmitted through direct contact with contaminated objects like bedding or with an infected dog. When this infection develops, there'll be multiple pale-looking, hard, cauliflower-like warts on the lips, around the eyes, and inside the mouth. These warts can be painful, and when it comes to severe infections, chewing and swallowing may become difficult for your dog.  
The good news is that papillomas will go away after several weeks or sometimes a few months. But if these growths are causing major problems for your dog, they should be removed by your vet.


Benign Tumors
Benign tumors are slow-growing lumps that don't spread to the rest of your dog's body. These tumors usually don't cause any problem except for when they cause irritation, become infected, or get in the way of other parts of the body. 
There are two common types of benign tumors in canines:
Histiocytomas. These tumors are common in young dogs, and they are usually round, red, and angry-looking. They come up very quickly, but they usually just disappear after a few weeks.
Lipomas. Lipomas are fatty skin lumps that, and they often start soft, becoming firmer as they increase in size. They usually grow slowly, but they can get really large. Pet MD explains that lipomas are very common and that many different breeds of dogs are prone to developing these tumors. These tumors usually feel like a soft mass that can be moved around underneath the skin.
Malignant Tumors
Malignant tumors are cancerous growths, and they often grow quickly and spread to other parts of your dog's body. Some of the common malignant skin lumps in canines include: 


Melanomas
These are very dark skin lumps that can be found just about anywhere on the body, like the face, feet, and even scrotum.
Pet MD also explains that many skin lumps or masses are benign, but the ones found on the nailbed or paw pads and in the mouth can be very aggressive. With masses at the nail bed, the toe typically gets swollen, which may be painful for the dog. An x-ray will determine whether the affected toe needs to be amputated to take out the cancerous mass. 


Mast Cell Tumors
A mast cell tumor is a skin tumor that grows quickly and spreads to other parts of the body. These tumors vary in appearance. They often grow and then shrink in size.
Pet MD also cites Erika Krick, DVM, assistant professor of oncology at the University of Pennsylvania School of Veterinary Medicine, as saying that mast cell tumors are among the most common types of skin tumors in dogs. These tumors are usually red and are very itchy. It's because these lumps contain histamine, which is a chemical responsible for itching as a reaction to allergies.
Histamine, Krick explains, instructs the stomach to produce more acid. Because of this, dogs who have these mast cell tumors are also prone to getting gastrointestinal ulcers.
The good news for Great Dane owners is that short-faced dogs, like pugs and French bulldogs, are the breeds that are most at risk of developing mast cell tumors.


Osteosarcoma
Bone cancer usually affects middle-aged and large breeds like Great Danes. The tumor will be in the bone and isn't likely visible, but you will notice limping because your dog will experience leg pain.  
So once you notice that your dog is having difficulty walking normally even without prior injury, you may want to check with the vet right away. This is a painful and aggressive kind of tumor, and the sooner it is diagnosed and removed, the better your dog's prognosis will be. 
Pro-tip: Great Dane's (and their owners) love dog crates…and for good reasons. Crates keep dogs from mischief while you're away, are perfect for house training, for traveling by car, and provide the dog a place to de-stress. Check out the best Mastiff crates on Amazon.com now.


Treating Lumps and Bumps on Your Great Dane
Not all bumps and lumps in your dogs are easily visible, so it would be good to check your pets for these regularly. Examine and feel their skin and body for any unusual growth and swelling. 
Take note of how big a lump is when you find one. You may want to take a photo every couple of weeks to monitor the growth of the lump. You should also take note of the lump's shape, texture, hardness or softness, and whether it causes pain in your dog and whether it bleeds. 
The next step you should take after discovering a lump is to book an appointment with your veterinarian as soon as possible. Contact your vet even if the lump looks innocent or even if they've already had other harmless lumps before. Your vet may need to take a sample of it to find out what it is exactly.

Treatment options will depend on the kind of lump your dog has. For instance, for suspicious tumors, treatment starts with a fine needle aspirate, wherein a cell sample is retrieved to diagnose what type of mass your dog is dealing with.
This may be followed by the surgical removal of the tumor and then sent to a pathologist for grading. Grading measures just how aggressive the cancer is. This, in turn, will help the vet determine the next steps to take in terms of treatment.
A tumor or mass will only be removed before grading if it is obstructive to your dog's movement and if it hinders normal activity. Surgery may also be the only way to deal with any malignant growth initially.
With osteosarcoma, an x-ray is conducted on the affected area, usually the legs, so you could all rule out arthritis. Sometimes, a biopsy will have to be done to confirm osteosarcoma. 
Krick says that once the cancer is diagnosed, the treatment of choice is amputation, followed by chemotherapy. However, some dogs are candidates for a limb-sparing procedure, wherein vets will remove only the affected area of the bone and replace it with either a metal rod or a bone graft. 


Great Dane Lumps And Bumps...Final Thoughts
Lumps and bumps are common in all dogs, but Great Danes are more susceptible to tumors in their bones. These bone tumors are not visible, but they are usually cancerous and would manifest through limping and discomfort. So once you notice your dog limping, contact your vet right away. The earlier the cancer is spotted, the better the chances of avoiding amputation.
Meanwhile, the lumps and bumps you can see and feel may be harmless. Or they may be malignant. The best thing to do is never to second-guess yourself and take your beloved pet to the vet to have these lumps and bumps properly evaluated. It is only with a proper diagnosis that you can take the best course of treatment for your dog.


Return to the top of this Great Dane Lumps And Bumps page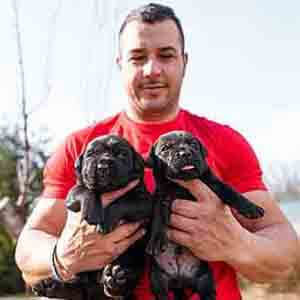 About the Author...
Ken Alden, a dedicated Mastiff owner for over eight
years, is acclaimed for his expertise in care, grooming, and training. Read more About Me and my dog Shadow.


Great Dane Lumps And Bumps