Mastiff Puppy Weight Guide

What Should I Expect With My Puppy?
by Ken Alden

You'll see in this Mastiff puppy weight guide that the mastiff is a true giant among the dog breed community, with significant body weight from birth and powerful, muscular body composition. Needless to say they grow FAST  in their first year as you'll see in our guide below.


Mastiff Puppy Weight Guide...What To Expect
After a mastiff starts life at just under 1 lb. (.45 kg), growing consistently within the first year to reach 110-145 lbs. (50-68 kb). A full-grown male (at 3 years old) will reach a height of at least 30 inches (0.76 m) and a weight of up to 200 pounds (91 kg). The female mastiff height will begin at 27 inches (.69 m), and her weight will level out at 150 pounds (68 kg).


When you get a mastiff puppy, you'll want to have an idea of just how much weight puppy will gain throughout a healthy development. While considering the breed norms and parent size can be good considerations, there are other factors to consider. Below we'll cover what kind of weight to expect in your mastiff puppy, from birth through the first year of life. Read More Below...


Pro-tip: Ever try lifting a Mastiff? Their weight can hurt not only your back but their joints when they hop down from cars, sofas or even your bed. To protect your back and theirs check out the best Mastiff ramps on Amazon.com now.


---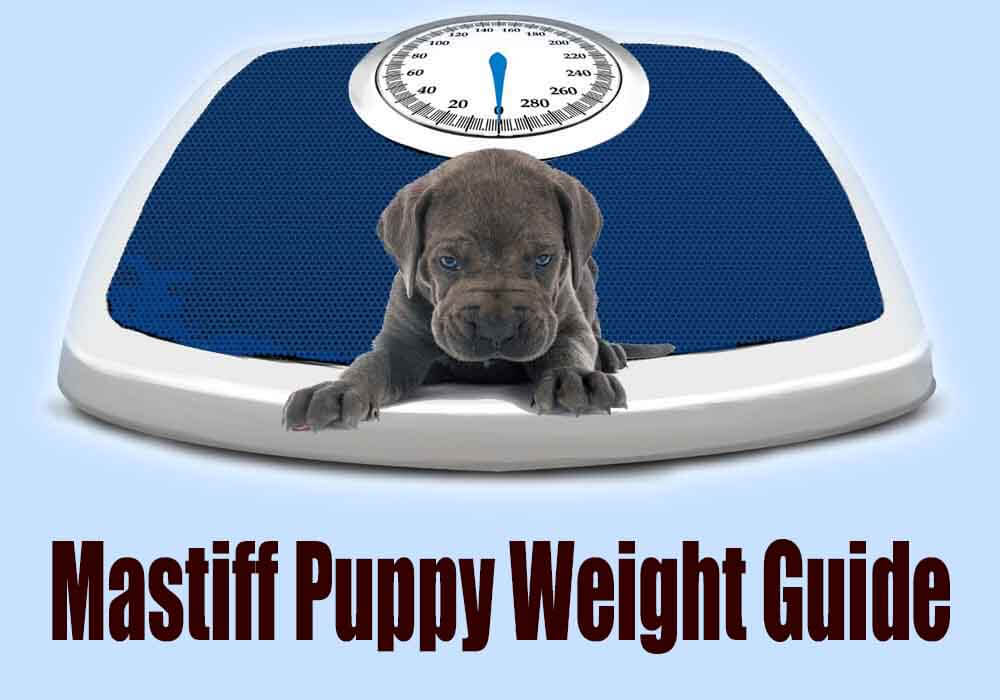 Mastiff Puppy Weight Gain & Development Through the First Year of Life
Your mastiff puppy is going to grow based on the type of breed that it is. Being a large dog, most of the breeds grow at a fairly quick rate. When you opt to breed a large dog, it's important for you to understand, this is not going to be like breeding other dogs. The work in raising a mastiff is comparable to that of raising a newborn human baby.


Do A Mastiff's Feet Give a Clue to Future Size and Weight?
Disproportionately sized puppy feet are often used as an indicator of adult size and can be a helpful tool. Typically, a puppy fitted with larger feet correlates with a puppy who will have greater weight and height in the future. 
Keep in mind; most mastiff puppies are going to have large paws, to begin with. Large feet give the mastiff support for a heavy, tall body. Tiny feet are not going to cut it when it comes to a 100-pound mastiff. And heavy, long feet will look out of place on a teacup Yorkie even at full size.


Pro-tip: Mastiff anxiety, aggression, destructive chewing, jumping up, fearfulness, and other behaviors can be controlled with the right training program.
Here's a great course that addresses these issues along with many other dog training basics: Check it out now!


Mastiff Puppy Weight Guide
Weight At Birth...
The starting weight for a litter of mastiff pups will be approximately 13 oz. (0.49 kg). You cannot leave a massive mastiff mom alone with her litter. It will prove challenging for her to find a safe spot to lie down, and puppies can be squished in the effort. This happens more often than you may think with unsupervised very-large breed litters even in just a split-second of stepping away.


Feeding a Newborn Mastiff Puppy
A newborn mastiff is very much like a newborn baby, needing round-the-clock nourishment and mindful care. Puppies of this age require food at least every two hours. 
With litters consisting of upwards of 12 pups, there should be supplements to the diets to ensure enough nutrients are received, so they thrive. This takes a huge effort, and once you have finished the process throughout the litter, it's time to start again. 
After pups have nursed from the dam, especially within the first few days and then as they age over the next couple weeks, there may not be enough milk for all of them, which means a bottle will need to be given to top them off.
The bottle can be a baby bottle with a hole that is not too big in the nipple, so the puppy does not aspirate. If milk is released out of the puppy's nose, it is eating too fast, which will cause pneumonia.

Because proper feeding of your puppy is so important, I've written a dedicated article to just that topic. Do you know what the very best scheduling, foods and amounts are? Learn here.


Monitoring Weight and Bowel Movements
Allow the pups to feed as much as they choose to weigh them consistently and topping them at their birth weight in the first few days. Having a good scale is crucial.
Only use the bottle as a supplement to top off and help dam. You want her body to realize how many are in her litter and to continue to produce. It's important to be sure the dam is stimulating the pups to encourage voiding and bowel movements.
Puppies won't do this on their own. She has to lick them to stimulate this process. If she doesn't, this is something that you will need to manipulate by hand.
The pups will gain great socialization skills through this handling, which is so important with the giant breed dogs. The hands-on approach will make them into exceptional pets.


Mastiff Puppy Weight Guide
Weight At Three Weeks...
At this stage in their growth, a mastiff male is approximately 15 pounds (7 kg), and a female is around 13 pounds (6 kg). This gentle giant should be up walking and can begin eating solid foods.


How to Feed a Mastiff Puppy at Three Weeks
Soaked dry food is going to be the best for this age. If you see that they play more than eat, they're still too young. Remember, to discourage this, pups should be given food in their eating area as opposed to the playroom or potty area.
A dam is going to let you know when it's time to start the mastiffs on kibble as she'll regurgitate her kibble for them to eat. This is also a time when you want to add a shallow water bowl for them to begin to learn to lap water out of a bowl.


Soaking the Kibble
Beginning at three weeks, you want to take a good quality puppy kibble and soak it in 2 parts of water to 1 part of kibble. There is some kibble brands that need to have more water added to it. The kibble should hold its shape while soaking in the water. The kibble pieces need to swell and go very soft, so use as much water as possible.
Along with solid food, you will see solid poop as opposed to what was runny, and there should be no diarrhea. 


Mastiff Puppy Weight Guide
Weight At Six Weeks...
Weight is going to vary among the different breeds of mastiffs, but an overall approximation for the male mastiff is 20 pounds (9 kg) with the female around 17 pounds (8 kg).


Feeding a Mastiff Puppy at Six Weeks
A puppy requires more protein as compared to the mature dog for rapid muscle growth. Their diet needs to offer between 21-25% protein and between 8-10% of fat. An older mastiff taking in over 21% of protein can result in hepatic or renal failure. Other feeding tips for this age:
Supplements with vitamin C help to avoid hip dysplasia.
It is advised to avoid extra calcium, as this has the potential to lead to electrolyte imbalance or disorders of the skeleton.
It is critical to meet the exercise requirements of your pup with a daily walk or play session. With a mastiff, you don't want them to jump from elevated areas as it could result in a shoulder injury. Slippery surfaces should also be avoided to prevent joint injuries.


Mastiff Puppy Weight Guide
Weight At Nine Weeks...
At nine weeks, your mastiff male is going to be around 33 pounds (15 kg) with your female starting at 29 pounds (13 kg). Rapid growth periods for mastiff puppies occur during the 4-8-week time frame, the 10-16-week time period, and 18-30 weeks. Good care is critical for a proper beginning and necessary for the continued growth and overall size of the mastiff. 


Feeding a Mastiff Puppy at Nine Weeks
Your mastiff should be receiving 3 to 5 cups (approx. .71 to .95 l) of food should be given per day divided into 3-4 meals.
This is a very crucial time for your mastiff. They will develop at a slower rate and grow less into adulthood if any of the following conditions exist:
Being brought up with less than enough to eat
Eating food that is considered to be inferior
If they have not been wormed and remain infested with various parasites
If they are kept in unsanitary conditions that are stressful
Mastiff males are typically bigger than a female with a larger head and larger bone, meaning that they are going to weigh more on average than what the female weighs. You will find girl mastiffs out there who give the boys a run for their money, however.

'Bone size,' as discussed by breeders, refers to the circumference of the leg bones. There are those mastiffs that offer reed-like spindly little legs compared to the ones who have enormous, fence-post sizes. The dog with the larger bone is obviously going to have more weight since bone is heavier.


Mastiff Puppy Weight Guide
Weight At 11 Weeks...
A male mastiff will start at a weight of approximately 40 pounds (18 kg) with a female beginning around 36 pounds (16 kg).


Feeding and Managing Mastiff Weight at 11 Weeks
In the time frame between weeks 10-12, 4-6 cups (.95 to 1.42 l) of food should be given per day divided into 3-4 meals. Mastiff puppies grow very fast, so it's important to get it right for not just the amount but the frequency.
Weight management is very important with this hands-on test allowing you to tell whether your dog is overweight. Place a hand on the back of your dog with fingers spread down and thumb over the spine and look for the following:
If you can feel the ribs without using any pressure, this designates a healthy weight.
If pressure needs to be applied to feel the ribs, your dog has become obese.
Visible ribs indicate an underweight dog and means they need to eat much more.


Mastiff Puppy Weight Guide
Weight At Three Months...
The average weight at the three-month stage for a male mastiff is 45 pounds (20 kg), and the female mastiff is around 39 pounds (18 kg).


Feeding a Mastiff Puppy at Three Months

 
From the time your puppy turns three months old, you can begin to use adult dog food, ensuring that you check all the labels for the nutritional values.
Commercial dog food needs to have the level of protein required for the growing mastiff as well as the fat and 3-5% iodine, suggested phosphorus and calcium.
A mastiff of this age only needs to be fed two times per day, in the morning, and then again at night. Dividing each day's calorie intake in this way will prevent bloat and assist the pup with digestion.

Tips for choosing a quality food for your Mastiff.
With commercial food, the first three ingredients should be animal protein.
The ideal protein sources are beef, chicken, lamb, and fish. Meat meals in which the moisture has been removed are also a good choice.
Healthy fat choices include fish oils and chicken fat. Fish oil gives pup omega fatty acids, which give their coat shine and makes their skin healthy.
A fatty acid known as DHA aids in brain and eye health.
Avoid any type of food that seems to irritate an allergic reaction in your mastiff. These would include caffeine, chocolate, wheat, onion, dairy, or corn products.
Stay away from any treats that offer artificial colors, preservatives, and sweeteners.
To avoid obesity, treats should be broken down into smaller pieces rather than giving an entire piece.


Wondering what the best foods for your Mastiff are? Because this is such a large dog they have special dietary needs for proper bone and muscle development. We've reviewed and compiled the healthiest dry and wet foods for this breed and here's our findings.   


Hydration and Hygiene for Your Mastiff
Mastiffs are incredibly thirsty breeds, among the thirstiest breed, and need to drink often. This is among the reasons for the incessant drooling. There should always be a water resource for the mastiff throughout the day, and it should never be let go empty. They also are known to avoid the water if it has been infected by their own drool, so change it often.
Keeping a mastiff's face clean is essential due to the wrinkles in their skin, which provide hiding places for dirt and bacteria.
Use baby wipes to get rid of the dirt and dry the pup's face with a soft towel immediately after. The gunk that collects around their eyes has the potential to cause eye infections also if you don't take care of that as well. Remember to get this area with the baby wipes.


Mastiff Puppy Weight Guide
Weight At Four Months...
Around 4 months the male comes in at approximately 60 pounds (27 kg) and the female staying around 50 pounds (23 kg). 


Feeding a Mastiff Puppy at Four Months
The feeding needs for your mastiff don't change much this month. Continue feeding twice a day, as at three months.

Dental Care for Your Mastiff Puppy
Dental care is an important part of the mastiff's health and contributes to being nutritionally sound. It is actually suggested brushing a mastiff's teeth daily, but many sticks with two or three times each week.
This process is important to keep the teeth healthy and to prevent any type of bacterial infections from developing or a build-up of tartar. Make sure that you're using a brush and toothpaste meant for the giant breed of dog.
You don't want to force the brushing but rather calmly introduce the pup to the toothpaste. Let them check it out, taste it, and use your fingers as the brush in the beginning.


Mastiff Puppy Weight Guide
Weight At Five Months...
On average, the mastiff weight at this stage is 80 pounds (36 kg) for males and 65 pounds (29 kg) for females.


Feeding and Exercising a Mastiff Puppy at Five Months
You may have some concerns at this point about the size of your pup and feel the need to over-exercise your mastiff. These dogs may be huge, but they are not in need of as much physical activity as the other larger breeds of dogs.
Although their ancestors tell a different story of being a working breed, mastiffs are house dogs and are much happier inside. They do still require a regular form of physical and mental exercise for their overall health. Without this, they become bored and destructive. 
Mastiff puppies need their bones to be properly developed before they engage in too much physical activity. A daily exercise routine is not required until much later in the growth process.
Mental exercise can definitely begin with things like fetch or allowing for chew toys filled with treats allowing the pup to stay stimulated mentally.
This exercise can come in the form of a daily walk with a duration of 30 minutes, which is the ideal activity for a mastiff. Keep a close watch over your pup, have a harness around him, and make sure that there is no fatigue or dehydration occurring.


So how much exercise does a Mastiff puppy need? It's important to know this and the answer in our article will surprise you.


Pro-tip: Mastiff's (and their owners) love dog crates…and for good reasons. Crates keep dogs from mischief while you're away, are perfect for house training, for traveling by car, and provide the dog a place to de-stress. Check out the best Mastiff crates on Amazon.com now.


Mastiff Puppy Weight Guide
Weight At Six Months...
You're probably noticing a steady rise in your mastiff's weight. On average during their growing stages, they gain approximately 1-2 kg a week. At 6 months, the male will average around 100 pounds (45 kg), and the female will be 90 pounds (41 kg).


Feeding and Exercising a Mastiff Puppy at Six Months
You definitely want to avoid excessive weight gain. If you are exercising your mastiff, be sure that you avoid exercise one hour before eating and two hours after they have eaten. Exercise during these times can encourage bloat which is associated with deep-chested dogs. 
This is caused by a release of gas from fermented foods into the stomach, which has the potential to make the stomach twist. This is an extremely serious condition that can prove to be fatal in many instances.
In summer months, the middle of the day activity should also be avoided. This is cause for overheating and dehydration which can bring on heatstroke. 


Mastiff Puppy Weight Guide
Weight At Seven Months...
During these last few months, a mastiff has grown significantly, doubling his own weight several times over. At 7 months, a mastiff's weight is going to be around 125 pounds (57 kg) and her weight will be approximately 90 pounds (41 kg).


Caring for a Mastiff at Seven Months
Being heavy in this way has the potential to hurt hips, muscles, and joints to the point of not being able to recover. There is no such thing as being 'too careful' with them in this stage. You have his future health in your hands. They can't decide what's best for them. 
Take care to see your puppy is properly nourished but doesn't get overweight. Be mindful of proper mental stimulation and physical exercise. Everything you've been doing up until this point continues during the seventh month of life.


Mastiff Puppy Weight Guide
Weight At Eight Months...
The Mastiff's weight has increased significantly for the male to approximately 140 pounds (64 kg) and for the female to 100 pounds (45 kg). 
The most important thing that you can remember with a mastiff is that this may be a giant of a dog, but it is still a puppy...a baby. Some things you should do and things you shouldn't.


Exercise and Training Dos and Don'ts
Never let your mastiff jump over or off of anything until they are at least a year old because this has the potential to cripple your pup. Doing this is going to nullify your breeder's guarantee.
This dog is very large, but it is not a horse.  Don't put weight on its back.
Remember to allow time between exercise and meals to avoid bloating and the possibility of stomach twisting.
Don't make your mastiff exercise if they don't want to. Exercise is not a major necessity until they become approximately one year old.
Don't tie your pup.


Play, Toys, and Treats – Dos and Don'ts
Avoid play with dogs that are bigger than the mastiff.
It is a bad idea to give bones to dogs that are occupying the same enclosure.
Bones that splinter should not be given to your pup, such as chicken bones.
'Attack'-type training should never be used with your mastiff.
A mastiff, or any pup for that matter, should never be allowed to run loose. This is how tragedies come about. 
If you want to play fetch, it's great mental stimulation for the pup. But the ball needs to always be sized larger than the pup's head.
Discourage jumping on you or others.
Be firm with discipline using a strong 'NO' as your mastiff loves to please you.
Corporal punishment should never be an option.

What are some safe and healthy chew toy choices for your pooch? They aren't all the same a I discovered when shopping for them myself. Some are bad choices and some are excellent picks like these.


Mastiff Puppy Weight Guide
Weight At Nine Months...
Weight seems to be leveling out a little at this age with the male being around 155 pounds (70 kg) and the female approximately 110 pounds (50 kg).


Caring For Your Mastiff at Nine Months
Socializing a giant dog is really important. Without the proper amount of socialization, a mastiff can grow nervous around people or other animals and in unfamiliar type situations. It will be up to you to assist your pup to get used to the various aspects of everyday life.
Let them tag along to food markets or to places where they have a chance to adjust to loud, sudden noises.
Stay patient and calm and praise their bravery.
When you praise with treats, these are part of their nutritional plan, and your mastiff shouldn't be overindulged which can lead to weight gain. 
When socializing, always be firm but gentle. If you participate in a good training program, the pup will be around other dogs and people allowing for learning basic social skills. Typically, we need more training than our dogs do, and this type of environment is the perfect location for us to learn.


Mastiff Puppy Weight Guide
Weight At Ten Months...
A male mastiff at ten months will weigh approximately 165 pounds (75 kg) while a female will be around 112 pounds (51 kg).
A mastiff will continue to need the nourishment, exercise and mental stimulation of its early life for years to come. While growth will slow down, your mastiff is a "puppy" for the first three years of life as you've noticed in the.


By now your pal will be eating a lot! To make sure you're feeding them right, check out our Mastiff Puppy Feeding Guide and Schedule page, this will remove any questions you might have about feeding your pooch.
Adult Mastiff Health
The Mastiff breed sadly offers a much shorter lifespan than that of other dog breeds with 6-12 years expectancy. Some various different health issues that they experience in their lifetime include the following. Each issue will be followed by a tip to keep in mind to help avoid it.
Joint issues: Because of their size, mastiffs suffer a lot of structural problems that can begin when they are puppies. The most common joint problems that this breed endures are hip and elbow dysplasia. These can be avoided with a healthy diet and keeping a satisfactory weight through diet as opposed to strenuous exercising.

There should also never be any type of pressure placed on the mastiff's back. Try to keep the floors in your home from being slippery.


Gastric torsion: Gastric torsion is a common issue that mastiffs suffer which is another term for bloating. This is when an overproduction of gas blocks the stomach. When a pup is bloated, they are extremely thirsty with abdominal swelling, and excessively drool much more than is typical. The mastiff will dry retch but won't be able to produce vomit. There will be obvious signs of discomfort with the pup pacing and restless.

Avoiding bloating is essential and can be done through a well-balanced diet and meals that are spaced apart. Make sure to buy food and water bowls that are close to the floor with raised partitions so the pup can't eat too quickly. 
Canine Cystinuria: Mastiffs obtain this kidney disease typically through genetic predisposition. It has the potential to block the urinary passage and causes bladder stones. If you see your mastiff having difficulty with urination, the vet should be contacted immediately. As this is a genetic condition, there's not much to do in the way of prevention or control.

Read more about the various health issues that Mastiffs suffer from here


Mastiff Puppy Weight Guide...Final Thoughts
Well-fed, exercised and stimulated Mastiff puppies grow up to be a calm and loving pet that proves to be a most amazing companion for their owner.
These pups can generally adjust to nearly any type of house situation, but you need to remember that they truly are the epitome of the 'gentle giant.' They will grow to be large and will require a great deal of space within your home.
These dogs have the desire to be inside their comfy home with their humans. So, as they grow, continue to make some space where they can be near you and show you their love and companionship.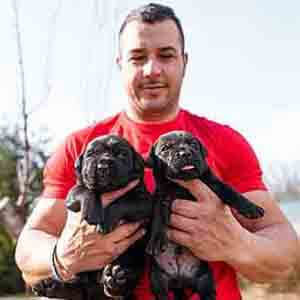 About the Author...
Ken Alden, a dedicated Mastiff owner for over eight
years, is acclaimed for his expertise in care, grooming, and training. Read more About Me and my dog Shadow.


Mastiff Puppy Weight Guide