15 Best Mastiff Chew Toys

Indestructible Toys For Your Puppy Or Adult

Your dog will have met its match when it faces one of these 15 best Mastiff chew toys for heavy chewers!
If you've begun to wonder whether you should just stop buying him toys altogether because they never last very long, then our suggestions below will change your mind forever.  
The good news is that there are plenty of toys out there that are almost indestructible and can provide your Mastiff with a safe, enjoyable and long lasting playtime. The perfect Mastiff chew toy are those made of durable material that can handle the pressure of your Mastiff's jaw! There are options for any age.
Before you jump the gun and head over to your local pet store, you have to know what you're looking for. Not all toys are indestructible and there are certain features that you should keep an eye out for as you roam the aisles. Read More Below...


The Best Chew Toys For Mastiffs
Let's face it. You've tried almost everything when it comes to toys, yet your Mastiff still somehow always figures out how to destroy it. That's because the toys you're picking aren't strong enough or durable enough to survive a Mastiff playtime.
When you're looking for the perfect toy to surprise your Mastiff with, you should be looking more toward toys recognized for their safety and level of durability. There are also several toy features that you should avoid at all costs to protect your Mastiff and his health!


Safety...
There's a lot that goes into making sure that a toy is safe for your beloved Mastiff!
The best way to guarantee that a chew toy is safe for your Mastiff is by making sure it's large enough for your Mastiff's jaw. If the toy is too small, your Mastiff might ultimately swallow the toy or choke on the pieces.
The safest toys are those that have no easily removable pieces. If your Mastiff chews on any toys with ribbons, bows, or small pieces, he might be able to remove them from the toy and eventually swallow them while playing.
One of the greatest issues associated with "indestructible" toys is that they're far too strong in terms of your Mastiff's delicate mouth. 
Materials that you can't easily dent with your fingernail or any other sharp surface may actually hurt your Mastiff's gums, teeth, and lips while he's chewing. These toys can make your Mastiff more prone to mouth injuries, which ultimately can lead to infection. 


Durability...
This is the most important feature when you're looking for an indestructible toy.
The perfect toy for your Mastiff is one that can withstand almost any amount of pressure exerted by your Mastiff's jaw while chewing!
Most toys that are on the market aren't durable at all. When you think about stuffed toys or toys made of plastic, you know just how easily your Mastiff can tear them apart and leave the pieces scattered.
When it comes to durable chew toys for your Mastiff, the best material would be rubber. Not only is rubber resistant to your Mastiff's strong jaw, but it also won't pose much of a danger if your Mastiff accidentally broke a small piece off and swallowed it.


Toys to Avoid
There are many toys that your Mastiff could play with periodically throughout the day, but very few can hold up as chew toys in the long-term. Here are some more common chew toys used by dogs that you should try to avoid giving your Mastiff.
Tennis balls: Though tennis might be great for playing fetch and keeping your Mastiff on the move, they're very easy to puncture. With enough time and dedication, your Mastiff can easily tear a tennis ball apart, so you shouldn't use them as chew toys on the regular. 
Toys that release treats. These toys are usually pretty easy to entertain your dog for hours on end, but they can cause negative health side effects if your dog is already obese or overweight. Use these in limitation if your Mastiff is struggling to maintain a healthy weight.
Bones: Dogs love them and it's a quick and easy way to keep them busy, but they can also be dangerous to your dog's mouth. Though malleable when your dog chews on them for a while, bones can actually splinter your dog's gums and digestive system.
Plush toys: Your Mastiff might like to carry one around or cuddle occasionally, but plush toys are very easy to destroy. They can leave a huge mess and swallowing the stuffing can hurt your Mastiff.
Nylabones. These are extremely popular, but they can be a bit hard on your Mastiff's mouth and gums. They're basically made of a hard plastic that can be too rough on your Mastiff's mouth.
The most important thing is knowing how your Mastiff plays. If he's gentle, you won't need to buy a toy that's indestructible.
However, since you're reading this article, it's likely that your Mastiff isn't the most gentle when it comes to playtime. With that said, you should avoid the toys listed above.


Best Chew Toys for Mastiff Adults
When your Mastiff's full-grown, you'll have a greater number of options when it comes to buying him chew toys! But at the same time, there's plenty more that you have to look out for when determining which chew toy is best.
By adulthood, your Mastiff's jaw is much stronger than ever, meaning he needs a toy that can handle that. The best chew toys for adult Mastiffs have very few moving pieces, are made entirely of durable rubber, and have little risk of falling apart.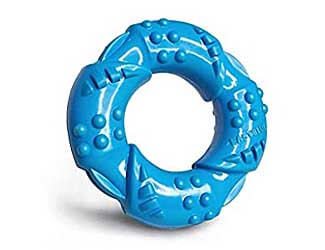 EASTBLUE Dog Chew Toy For Aggressive Chewers 
from Amazon.com
This ring-shaped rubber toy is a great addition to your adult Mastiff's toy basket!
Made of 100% natural rubber, your Mastiff will be able to play for hours on end without the toy falling apart. It'll also help him to build a healthy chewing habit without being destructive around the house.
There are plenty of ways that you and your Mastiff can play with this toy. He can lay down in the living room and chew it when he's bored or you can play fetch and watch this toy bounce as he excitedly chases after it. 

____________________________________________



Oneisall Dog Toy for Aggressive Chewers 
from Amazon.com
This bone-shaped toy comes in several sizes, and the large size is perfect for your adult Mastiff!
Made of food-grade nylon rather than the typical durable rubber, this toy will easily grab the attention of your Mastiff. That's because this toy infuses a delicious bacon flavor to keep your dog interested for longer periods of time.
This toy can also help you to maintain your Mastiff's dental health while encouraging him to act on his urge to chew in a healthy way. It's the perfect toy for reducing anxiety and stress in your Mastiff!
____________________________________________



Monster K9 Dog Toys Ultra-Durable Chew Toy 
from Amazon.com
This durable ring-shaped toy is one of the most indestructible toys that you can allow your Mastiff to play with.
The ring is made of a thick black rubber that's completely resistant to teeth punctures and even the most aggressive chewers. You'll be highly impressed by just how long this toy will last in your home.
No matter how your Mastiff likes to play, you can use this toy to play with him. Whether he wants to lie down and chew it, play fetch, or engage in an intense tug-of-war battle, this toy will keep him happy!

____________________________________________



DLDER Rubber Dog Toy 
from Amazon.com
This indestructible ball toy is an incredible toy for any Mastiff that loves to chew and play fetch with his owner.
Unlike many other types of balls that you can get your Mastiff, this one is the most impressive. It's constructed of an all-natural durable rubber that allows it to bounce well over 80 centimeters with every bounce.
If your Mastiff prefers to play in the water, you'll be happy to learn that this ball can float on the surface of the water of your local pool or lake. It also has an appealing vanilla scent to help freshen your Mastiff's breath after playtime!

____________________________________________



KONG Classic Dog Toy 
from Amazon.com
KONG Toys have consistently been one of the most popular toys for dogs of all sizes.
That's because these toys are extremely durable and versatile! Made of a thick rubber that can handle even the strongest jaws, KONG toys can be used for practically any type of playtime.
If your dog loves to play fetch or just chew on toys, the XXL KONG chew toy is a great option. When it's snack time, you can also add some peanut butter or other dog treats to the center of the toy.
____________________________________________



Motusamare Dog Chew Toy for Aggressive Chewers 
from Amazon.com

This red bone-shaped chew toy isn't just a solid option in terms of playing fetch with your Mastiff, but it can also help to clean your dog's teeth!
That's because of the physical design of this toy. With small rubber nubs included on each surface, your dog can reduce the amount of plaque and tartar on his teeth while also providing him with a much-needed gum massage.
What's great about this toy is just how durable the natural rubber material is. It's considered bite-resistant and can last longer than any other toy that you might have in your home already.

____________________________________________



Peteast Dog Toys Durable Dog Chew Toy for Aggressive Chewers 
from Amazon.com
This bone-shaped dental toy is perfect for any dog that loves to chew and any owner that truly values their Mastiff's dental health.
Your Mastiff might simply want to chew this toy on its own, but you can also add peanut butter to the surface as a snack. The more your Mastiff wants to chew it, the more dental benefits you'll notice.
The design of this toy includes smooth scrape technology. This can help to gently scrape excess tartar and plaque from your dog's teeth without him even knowing that you're doing it.


Best Mastiff Chew Toys for Mastiff Puppies
Though your Mastiff is well over 20 pounds at this point, he's still considered a puppy. That means you'll need to get him chew toys that'll allow him to satisfy his urges to chew while also helping him through the teething process.
For your Mastiff puppy, you'll want to buy him toys that'll let him get all of his pent-up energy out while also not being too rough on his delicate mouth and teeth. The best chew toys for Mastiff puppies consist of only one piece and might even release treats to keep your Mastiff entertained as he plays.
WingPet Dog Chew Toy 
from Amazon.com
This braided rubber chew toy is great for the Mastiff that loves to play fetch and tug-of-war. 
With a single-piece construction and a durable rubber material, your Mastiff puppy can easily let all of his urges to chew right out of his system! You can also hold onto the other end and teach your puppy how to play tug-of-war.
No matter what your puppy does while he's playing, this toy just won't come apart! This is one of the most indestructible chew toys for large puppies.


____________________________________________



DIDIPET Mango Dog Chew Toys for Aggressive Chewers 
from Amazon.com
This uniquely shaped chew toy is extremely suitable for the chewing urges of your Mastiff puppy.
This toy is made of a food-grade rubber that won't break or come apart no matter how much your Mastiff chews on it. The longer he chews, the healthier his teeth and gums will be when he gets older.
What's great about this toy is that you can add treats or food directly to the center. That'll keep your Mastiff interested in playing for longer periods of time!
____________________________________________



GUCHO Durable Dog Chew Toys for Aggressive Chewers 
from Amazon.com
This puppy ring toy is made of a nylon material that's safe for your puppy and won't hurt his delicate mouth as he teethes.
You can throw the toy into the distance and have your Mastiff puppy chase it, or you can add treats to the toy and let him lie down as he works on it. This toy is great for any type of play!
It can also help to keep your puppy's brand new teeth clean as they come in. Less plaque and tartar at a young age sets the tone for your Mastiff's dental health as he ages.
____________________________________________



Petstages Orka Tire Dog Chew Toy 
from Amazon.com
This tire-shaped chew toy boasts a one-piece rubber construction that makes it difficult for your curious Mastiff puppy to tear it apart.
This toy is great for any Mastiff that loves to play fetch, chew toys, or even swim! Just chuck the toy and watch your Mastiff puppy run full-speed to reach it.
If you want your Mastiff to use his toys more often, you can convince him to use this one by putting treats in the center of this ring.
____________________________________________

Petstages Orka Dental Links Dog Toy 
from Amazon.com
This ring toy set is perfect for any Mastiff puppy that likes to play tug-of-war with his loving owner!
Each set comes with three attached rings, two that are rubber and a center ring made of rope material. The different textures of the rings will keep your Mastiff interested during each play session. 
This toy is great for helping to keep your Mastiff's teeth clean without him even knowing! It's also gentle enough on the gums and teeth to ease him through the teething process as he goes through puppyhood.
____________________________________________



SHARLOVY Dog Squeaky Toys 5 Pack 
from Amazon.com
These plush toys are incredibly durable, lack stuffing, and won't come apart when your Mastiff tugs and chews them.
These toys come in packs of five, with each toy being designed to look like a different animal. This can help your Mastiff satisfy his natural urges to hunt and catch small animals.
To gain your Mastiff's interest, these toys include crinkle paper in its interior. Your Mastiff will do anything he can to get rid of the crinkling sound without actually destroying the toy.
____________________________________________
Bojafa Best Dog Teething Toys Balls 
from Amazon.com
If you've got a Mastiff that loves to play fetch, these toy balls are great for keeping your Mastiff puppy happy!
Each set comes with two balls made of natural rubber that are resistant to punctures from your Mastiff puppy's incoming teeth. You can also encourage your puppy to play by adding food or treats into the ridges of the ball.
This is a great toy for any Mastiff puppy that's teething, and you'll even appreciate the mint scent of the ball that can freshen your puppy's breath!


Conclusion...
When playtime rolls around every afternoon, it's important that you have a toy that your Mastiff can play with. But, not just any toy will do. You'll need to get your Mastiff some chew toys that are strong enough to handle anything he puts it through! Here are some guidelines for buying your Mastiff an indestructible toy.
Lean toward buying toys that have one piece, as they're more difficult to tear apart.
Only buy dog chew toys made of rubber and avoid plastic at all costs!
Monitor your Mastiff as he plays to make sure he's not putting himself in danger.


Return to the top of this Best Mastiff Chew Toys page


Best Mastiff Chew Toys