Best Training Collar For A Mastiff

by Ken Alden

Training any Mastiff can be a difficult task, but finding the best training collar for a Mastiff can make the task much more simple. Training collars typically come in two pieces: An electronic collar and a wireless transmitter. When your dog behaves as he should (or shouldn't) you can use your transmitter to send him a signal to notify him of such. 
The best training collar for a Mastiff are those with an impressive range and several training modes. The perfect collar can transmit signals well over 1,000 feet, is completely waterproof, and can shock, beep, or vibrate to train your Mastiff how to behave appropriately.
When it comes to training your Mastiff, not just any collar will do. You need to weigh the pros and cons of each type of collar to determine which would best fit your needs and your training style. Read More Below...

Skip Down To Our Reviews...



The Different Types of Mastiff Training Collars
When you think of training collars, you probably immediately think of shock collars. However, there are many more types of collars that you can use to train your Mastiff to behave the way you'd like him to. 
Shock and no-shock training collars are usually the most popular because they're noted for being efficient without causing pain to the dog. Prong and bark collars can still be effective in training your Mastiff, but they're becoming more outdated and less popular among animal lovers.


Mastiff Prong Collars
Prong collars, also called pinch collars, are some of the most controversial training collars out there. 
These collars contain several links that face inward and rest along your Mastiff's neck. When your dog pulls when on he's on his leash, the links will tighten and cause your dog to stop pulling pretty quickly.
Though they can be effective in reducing pulling behaviors while on a leash, they can cause your dog pain if pulled too tight.


Mastiff Shock Collars
Shock collars are electronic-based collars that will send a shock through your dog's neck when he misbehaves or barks.

Essentially, your dog will begin to associate his bad behavior with the shock, which ideally should reduce the problem behavior in the long-term.
Many shock collars have adjustable settings to allow you to change the intensity of the shock. However, they still remain controversial because shock collars can cause pain and, in severe circumstances, injure your dog's neck.


No-Shock Electronic Dog Collars
Many electronic collars come with several training features other than the typical "shock." 
Rather than sending off a signal to cue a shock in your dog's collar, you can trigger a vibration or a beeping sound when your dog misbehaves or barks. By doing so, your dog will begin to connect that specific behavior with the discomfort of the vibration or the beeping.
These collars are much more humane and don't cause physical pain in your Mastiff! They're also wireless and long-distance, which can help you to train your dog even from a distance. 


Bark Collars For Mastiffs
If your Mastiff's experimenting with his brand new deep bark, you might want to think about getting him a bark collar.
There are several types of bark collars that release certain punishments when it senses that your dog is barking. Some release an unpleasant scent while others send a shock through your dog's bark collar.
Despite the potential, bark collars aren't too effective when it comes to reducing barking behaviors. There are plenty of other methods for reducing dog barking and these collars should essentially be the last resort. 


How Dog Training Collars Work
To understand how training collars work, you need to gain a general understanding of reinforcement. Here's the step-by-step for using the typical wireless/remote-based training collar.


Put the training collar around your Mastiff's neck.
Set-up your wireless transmitter to select the punishment for your Mastiff's bad behavior (shock, beep sound, or vibration).
Your Mastiff does something that you'd prefer he not do (bark, growl, dig in the backyard, really anything).
You press the button on your wireless transmitter that sends a signal to your Mastiff's collar to punish.
Repeat whenever the bad behavior occurs.
Your Mastiff will begin to connect the bad behavior with the punishment.

You can also use training collars for positive rewards. 
If your Mastiff does something that you like, you can send a gentle signal over to his collar (likely a beep or a vibration) and then reward him with a treat.
Eventually, he'll associate the beep or vibration with getting a treat or being fed. He's then much more likely to continue this behavior in the future.
If you've noticed, training collars enforce the same ideas as regular training methods. Therefore, there's no guarantee that they'll be much better or worse than actually training your dog.


Picking the Right Size
Though many training collars come in a "one size fits all" style, you need to make sure that your Mastiff's neck measurement is within the collar's standards. It would be unfortunate to order a training collar online only to discover that it doesn't fit around your Mastiff's neck properly.
In this section, we'll review how to measure your Mastiff's neck to get an accurate measurement. We'll also go over what to do if there's a concern with sizing when it comes to a collar and your Mastiff's neck size.


Measuring Your Mastiff's Neck
To measure your Mastiff's neck, you'll need a cloth measuring tape and a bit of patience.
The area you should be measuring is around the base of your Mastiff's neck, so the largest part of his neck. You should be measuring where his collar typically sits. 
When you're getting this measurement, make sure that you can fit two fingers beneath the measuring tape when it's around your Mastiff's neck, as that's exactly how a collar is supposed to fit normally.
If your Mastiff is a bit resistant to letting you measure his neck, you can simply take off his collar as it fits normally and then measure its length.


Sizing Inconsistencies
You always need to take into account that your Mastiff may gain weight and grow a little more.
If a collar is 27 inches and your Mastiff's neck is about 25 inches, you'll want to select another collar that's a little bigger. You can always make the collar smaller and tighter, but you can't make it bigger than it physically is.
If the collar comes in different sizes and your Mastiff is on the upper end of one size, you should highly consider going a size up.


Weight Limits for Collars
You'll notice when you're looking for training collars that they have weight limits.
If you're not using this collar to walk your Mastiff, then why would there be a weight limit?
Well, for most of these collars, electric shock or static is a punishment option. When your dog weighs more, the level of shock is less likely to cause as significant of an effect as it would in a smaller dog.
You can still use the collar, but there's no guarantee that your dog will respond to the shock.
Let's get into some training collar recommendations...


Best Mastiff Training Collar For A Mastiff
...Our Reviews
There are plenty of options when it comes to training collars on Amazon, but there are quite a few products that'll provide you with a greater number of ideal features. As of this year, nearly every shock collar is completely rechargeable and comes with adjustable voltage and modes.
Our favorite training collars for Mastiffs tend to have several training modes like vibration, beeping, and shocking to allow you to select how exactly you want to train your Mastiff. Our top choices are all waterproof and have a minimum range of 1,000 ft.


DOG CARE Rechargeable Collar with 3 Training Modes
(Waterproof & 1,000 Ft)
from Amazon.com
This collar comes with a receiver that's capable of training nine different dogs at once, so this is the perfect fit for any family with a pack of dogs! This training collar is capable of sending signals up to 1,000 feet and can withstand your Mastiff's play session in the pool or local pond.
Depending on the size of your Mastiff and his resistance to learn new skills, you have a choice of 0 to 99 if you're selecting the static mode. It also comes with a security lock feature on the transmitter to prevent you from accidentally sending a shock to your dog.

________________________________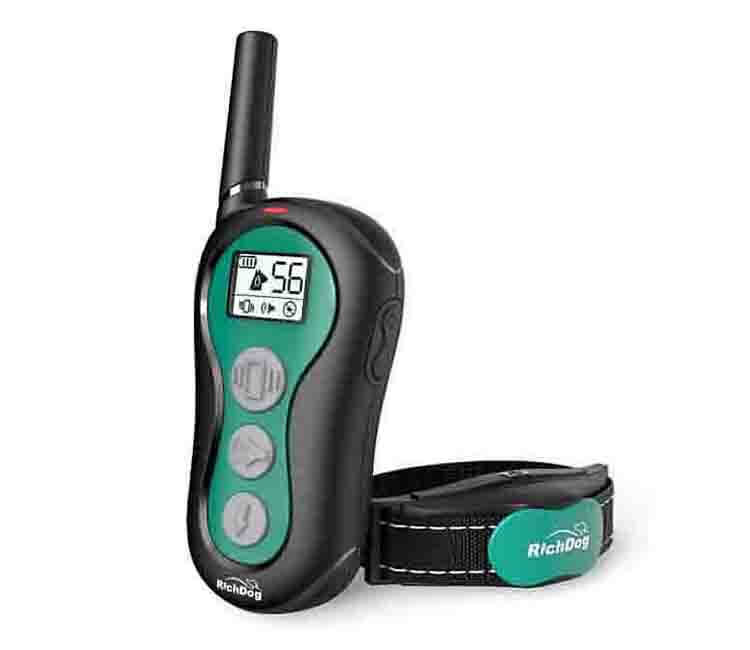 RICHDOG Dog Training Collar - Waterproof Shock Collar for Dog
with Remote Range Up to 1000ft 
from Amazon
This collar gets a 5 Star rating from users at Amazon and for good reason.
Its features include 3 amazingly effective safe training modes…Beep, Vibration and Shock modes.
This training collar has a 1-99 static level so you can give just the right amount of safe static shock and not too much. It's also waterproof so you don't have to worry if your pooch jumps in the water or you want to train on rainy days.

The remote also has a lock feature we really like which allows you to lock the remote to prevent any accidental shocks from happening…Free Shipping too!


________________________________


Funnipets Training Collar with 3 Training Modes
(Waterproof & 2,600 Feet)
from Amazon
This collar is one of the most humane options when it comes to the shock feature, as that feature on this collar is considered low voltage and not painful. You can select a punishment strength between 0 and 99 depending on which behaviors you're trying to correct and how resistant your Mastiff is to learning.
The collar also comes with an LED light to allow you to see your dog as he's off in the distance. The battery typically lasts 15 to 20 days and can send a signal up to 2,600 feet away for the ideal training experience.

________________________________


E-Collar Dog Trainer Mini Educator (Waterproof & ½ Mile)
from Amazon
This e-collar can support a signal up to a half-mile away, which is ideal for any Mastiff owner that lives on a large property. What's unique about this training collar is that you can preselect a simulation level to provide your Mastiff with consistency when it comes to punishment.
If you happen to lose your transmitter along the way, this product comes with a transmitter locator that'll allow you to find it wherever it is on your property. You can also wear the transmitter around your neck for quick access to training.


________________________________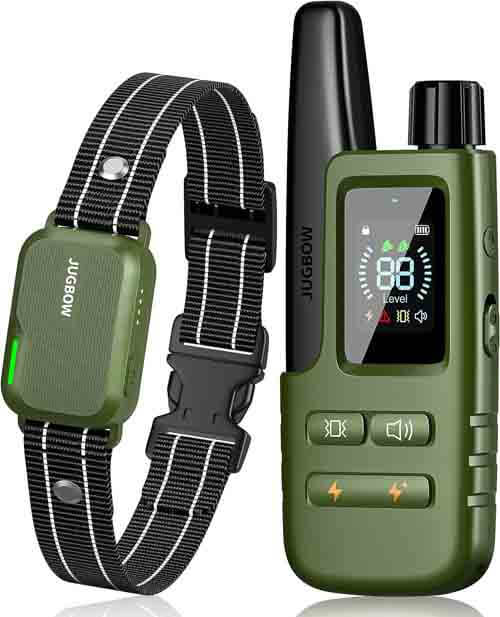 JUGBOW Dog Shock Collar, Remote Dog Training Collar
with 4 Correction Remote Training Modes
from Amazon
A great remote training collar for those on a budget, this rechargeable device has 4 training modes 4 humane training modes: beep(1-8 levels), vibration(1-16 levels),
safe shock(1-99 levels) and Shock Boost(10% higher) and has a remote range of
up to 3300 feet.
Having an incredible battery life as well as a safety lock makes this an excellent choice.


Some Frequently Asked Questions About Collars...


Are dog training collars cruel?
It depends on what type of collar you're using and what you consider cruel.
Prong collars that force links into your dog's neck when he pulls and shock collars that release a strong shock through your dog's neck when he misbehaves can very much be considered inhumane.
However, collars that allow you to train via beeping noises, vibrations or gentle static shocks are more effective in reducing the negative behaviors while also keeping your dog safe and happy!

Speaking for ourselves, we don't feel comfortable promoting prong collars and so none are listed on this page.


What is a training collar?
A training collar is a tool used when training dogs to teach them which behaviors they should and shouldn't be doing.
If used properly, the dog should associate their negative (or positive) behavior with the effect they experienced as a result of their training collar.
For example, if you send an electric shock signal to your Mastiff's training collar when he barks at children walking by, it'll teach him that barking at children will lead to a mildly painful shock.
Eventually, the behavior should become less consistent or even stop.


How do you train with a training collar?
If you're using an electronic training collar, you need to be paying attention to your dog's behavior as much as possible.
That's because you're still responsible for sending the signal to your dog's collar through your wireless transmitter.
When your dog does something he shouldn't be doing, you'll select the correction via your transmitter and it'll send that signal over to your dog's collar.
This should lead to problem behavior fading away over time.


Should I use a training collar?
Training collars should probably be used as a last resort if regular training doesn't seem to be working. Some dogs don't respond well to regular training methods and require more intensive training. 
The problem with training collars is consistency. Think about instances where you're not home with your dog or where you're not paying attention to what he's doing.
If he gets away with the behavior sometimes, but not other times (when you don't see it), it'll be confusing to him over whether he can or can't do it. At that point, he won't understand why he's being shocked sometimes, but not always.


Do shock collars make training easier?
Shock collars are by no means a quick fix for your dog's undesirable behaviors.
You might find it easier to simply click a button and "train" your dog, but it's not that easy. Training requires consistency and interaction with your dog. 
You need to be asserting yourself as the master in your household and training your dog accordingly. By using a middleman like a shock collar, you're not directly training your dog and building that master/dog relationship.


Do training collars work?
Training collars can help to reduce the behaviors you don't want to see, but they might also be teaching your dog to hate the collar itself.
That's because the collar is always causing your Mastiff discomfort.
With that said, you might notice that your Mastiff reverts back to the problem behavior once you take his training collar off.
That's why directly training your dog can be much more effective than training collars.


Can you use a training collar on a puppy?
If you want to start training your Mastiff as soon as possible, you can begin using a training collar when he's a few months old.
However, puppyhood is the prime time to teach your Mastiff how he's supposed to behave while building a relationship with him. You should be asserting your role as his master and teaching him to respect you.


Best Training Collar For A Mastiff...Conclusion
The best training collars for a Mastiff are those that allow you to train your Mastiff in a humane, yet efficient manner. That means you won't be hurting your dog and you'll be teaching him the specific behaviors that you do and don't want to see. Here are some qualities of the perfect training collar. 
Rechargeable for long-term use
Several training modes like vibration, beeping, and shocking (though not recommended)
Long-range for long-distance training
Waterproof for rainy days and swimming


Return to the top of this Best Training Collar For A Mastiff page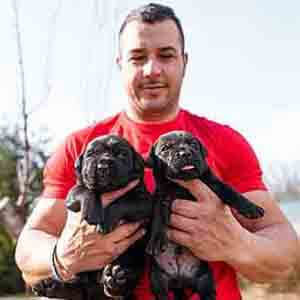 About the Author...
Ken Alden, a dedicated Mastiff owner for over eight
years, is acclaimed for his expertise in care, grooming, and training. Read more About Me and my dog Shadow.


Best Training Collar For Mastiff