Best Mastiff Crates

Helpful Guide to Choosing the Right One
by Ken Alden

Potty training, teaching the rules of the house, and keeping your dog in check are some of the reasons why you need a crate for your Mastiff. But picking the right one for your pet can be challenging because of their massive size, explosive power, and strong temperament.
So, how can you choose the best Mastiff crates? Picking the right one for your pet isn't a one-time deal. You'll have to continually upgrade to make it an invaluable tool for raising a well-mannered Mastiff. It's not a simple task, but the general rule is that it should be big enough for your dog to lie down comfortably but not too spacious.
Sure, it's not a definitive answer, but picking the right crate was never as straightforward as what people think, especially for giant dog breeds. But don't worry, we'll cover it in great detail, and provide you with some recommendations on crates that we think are perfect for Mastiffs.


What Size Crate for a Mastiff Puppy?
When choosing a crate for your puppy, it should be big enough for him to stay inside comfortably, but not big enough for him to defecate on one side, then sleep on the other. It defeats the purpose of having a space that you can use to train your dog because he can do whatever he wants and still have a clean space to lay down.
With that in mind, you can expect to buy several crates of different sizes as your puppy grows. It can be quite expensive without the right information, so here's a rough estimate of the crate sizes that you'll need for your puppy:


Dogs Age
---
1 to 2 Months

---
2 to 3 Months

---
3 to 6 Months

---
6 to 12 Months

---
12 to 18 Months

---
18 Months ~

Recommended Size

---
30"

---
30"

---
36"

---
42"

---
48"

---
48"

Ideal Size

---
30"

---
36"

---
36"

---
48"

---
48"

---
54"


Upgrading the crate several times is expensive, that's true. However, it's the most effective way to teach your Mastiff good manners.
It's also worth noting that these recommended crate sizes may not be suitable for your puppy. Each dog grows at its own pace, so it would be best if you'll adapt to your pet's size accordingly. 
Remember, you're buying a tool that'll help you train your dog, not a cage where he'll spend most of his life. So before you start thinking of how expensive it'll get, ask yourself this: how much is it worth for you to have a well-trained, well-mannered Mastiff?


Mastiff Puppy Crates: The Ones We Liked the Best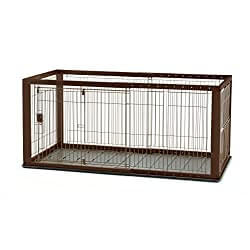 Richell Expandable Pet Crate
This crate is from Amazon.com may not be cheap, but it saves you from the trouble of continually upgrading crates until maturity. It expands from 35.4 to 60.6 inches with 11 different adjustable widths, which is ideal for Mastiffs of all ages!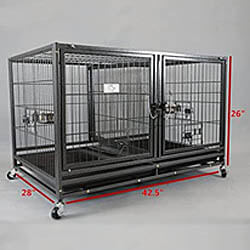 Homey Pet Stackable Crate 
From Amazon.com is advisable for those who are planning to breed Mastiffs or owners who are raising several puppies. This stackable crate has the right size for Mastiffs with exceptional durability that can keep up with the most stubborn puppies.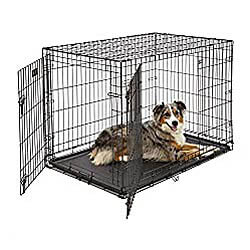 MidWest Homes iCrate 
From Amazon.com is perhaps the most durable, lightweight crate we've seen. It doesn't have thick metal builds that you're apt to see these days, but it can withstand your dog's strength while maintaining excellent portability and security for your dog.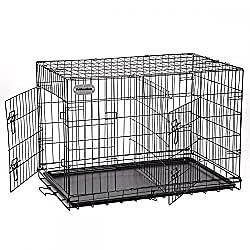 PetPremium Double-Door Crate 
From Amazon.com is a 48-inch crate that comes with a divider, which allows you to create just enough space to train your dog effectively. It is, perhaps, the most economical option for a lot of owners because it doesn't cost as much but still allows you to keep up with random growth spurts!

What Size Dog Crate for a Mastiff?  
If you're able to train a puppy properly, he shouldn't have any problem staying inside a crate as an adult—there'll be less resistance and uneasiness. That's why the construction, although still important, isn't as big of a deal for adults as it is for puppies.
However, even though adult Mastiffs are laid-back, relaxed, and would be fine to doze the day away, size still matters when looking for a crate. After all, you want your pet to be comfortable while staying inside and not make him feel like being punished or locked up in a cage.
The recommended size for an adult Mastiff is 48 inches, but 54 inches is ideal. It'll provide enough room for your dog to move around and stay inside comfortably. Anything smaller than 48 inches will be too cramped and could very well be short-lived, given that this breed doesn't like small spaces.


Mastiff Dog Crates for Adults: Our Recommendations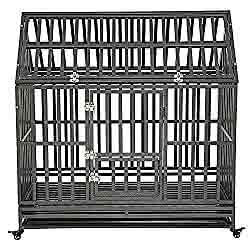 LUCKUP Heavy-Duty Crate 
From Amazon.com is like a mini containment facility for Mastiff's explosive strength. It uses heavy-duty, corrosion-resistant steel that can withstand even the most stubborn dogs. It also features a 360° rotating wheel for added mobility and portability.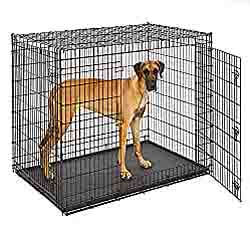 MidWest Homes Crate 
From Amazon.com is what we consider the default option that you should look into. It has a well-balanced construction—durability and portability-wise, added security features, and a low-entry price point. Assembly can be challenging, though, as it requires two people to set up.


JY QAQA PET Heavy-Duty Crate 
From Amazon.com is the best east-to-assemble heavy-duty crate that can withstand adult Mastiffs. It has four 360° swivel wheels for increased mobility and top and side doors for better accessibility. It's a safer option for dogs that bite on anything because of its multilayer, non-toxic coating.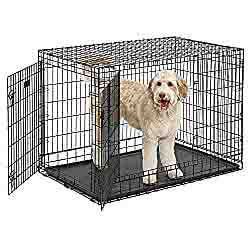 Ultima Pro 
From Amazon.com is MidWest's most durable crate that can handle the most stubborn Mastiff and keep him in place. Unlike other heavy-duty crates, it combines usability, portability, and durability by using the thickest wires, and a secure latch system that folds the crate flat when removed.

Best Travel Crates for Mastiffs: Our Recommendations

BestPet Dog Crate 
From Amazon.com isn't the cheapest that you can buy, but it works well as an indoor and outdoor crate for your dog. It has a built-in carry handle, and anyone can assemble it within minutes, without tools. The previous iteration wasn't ideal for Mastiffs, but BestPet made it stronger by using thicker wires!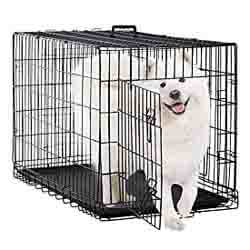 New World Folding Crate 
From Amazon.com is perfect for owners who are on a tight budget. It creates a den-like space for your pet that you can fold for easy travel and storage. You can assemble it within minutes, then remove a few security latches to fold flat.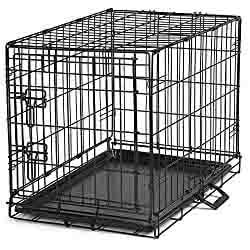 Basics Double-Door Pet Crate 
From Amazon.com gives the best value in terms of material build and construction. It doesn't have the fancy features that you may be looking for, but it does a great job of keeping your pet in check, whether inside your house or out for camping.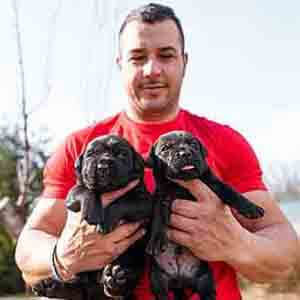 About the Author...
Ken Alden, a dedicated Mastiff owner for over eight
years, is acclaimed for his expertise in care, grooming, and training. Read more About Me and my dog Shadow.


Return to the top of this Best Mastiff Crate page


Best Mastiff Crates