Neapolitan Mastiff
Puppy Feeding Guide


Following This Schedule And Food Requirements 




Will Give Your Neo A Great Start



Neapolitan Mastiffs are adorable puppies. Wrinkly, energetic, and clumsy, you're sure to have a blast, and some headaches, raising a Neo. But Mastinos require specific feeding requirements to grow up healthy. 
A few important tips about feeding Neapolitan Mastiffs correctly include:
Controlling weight gain and growth as a puppy
Using a food formulated for puppies
Give the correct amount at the right age 
Look for high protein content, and if possible, glucosamine and chondroitin 
Slowly transition your Neo from puppy food to adult food at the proper time
Neo puppyhood generally lasts up to two years, with growth not being completed until the age of three. It's crucial to control your puppy's growth and weight during this time with the proper feedings. Keep reading below to learn how to feed your Neapolitan Mastiff properly.  


Pro-tip: Ever try lifting a Neapolitan Mastiff? Their weight can hurt not only your back but their joints when they hop down from cars, sofas or even your bed. To protect your back and theirs check out the best Mastiff ramps on Amazon.com now.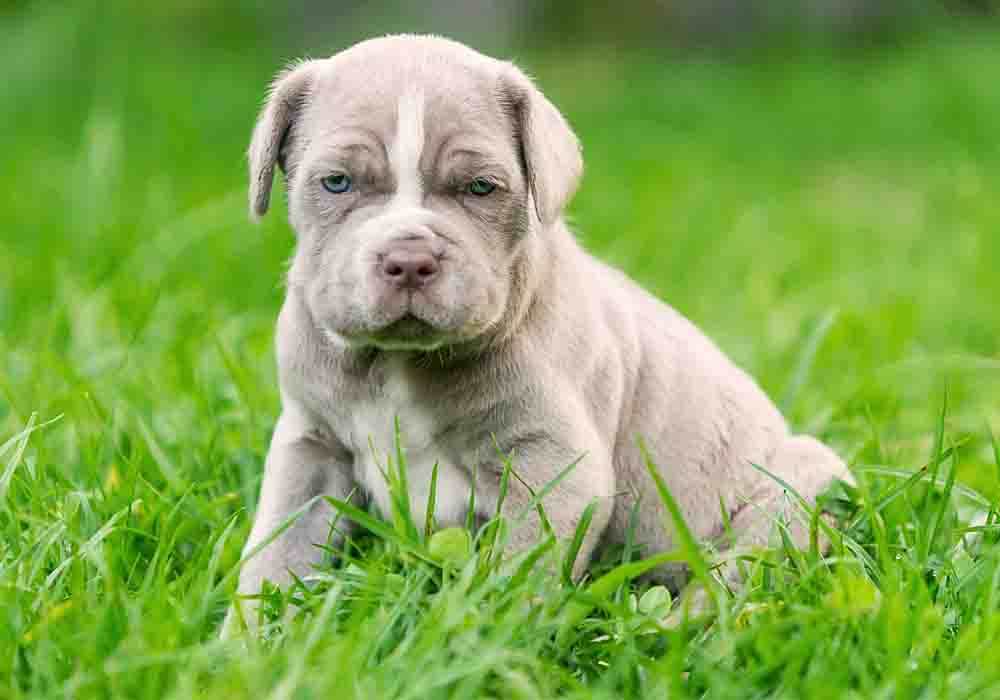 Neapolitan Mastiff Puppy Food: When and What to Feed Them
Generally speaking, puppies of any breed should be fed food specially formulated to meet the nutritional needs of growing pups. Merrick Puppy (from Amazon.com) is an excellent puppy food that will give your pooch all the nutrients he needs. 
But with large breed puppies like the Neapolitan Mastiff, you'll want to take it a step further. Look for puppy foods made for large breed dogs. These formulas typically have extra nutrients and supplements that larger dogs need for healthy development. 
Neos can experience multiple problems as they age, including bone and joint pain and damage, so they need nutrients such as glucosamine and chondroitin, which help with healthy bones and joints. 
Diamond Naturals (from Amazon.com) is specifically for large breed puppies. It includes glucosamine and chondroitin, but it also has DHA for healthy brain and eye development. 
The younger a puppy is, the more food they will need to consume to be healthy. The amount will vary based on your pet's individual needs and the brand of food you use. Each manufacturer has different guidelines. Neapolitan Mastiff puppy feeding guide

Remember, the feeding amounts below are just an approximation. Pet owners should always talk to their vet and consult their pet foods feeding chart to determine the exact amount their dogs should be fed. The dogs' weights and energy levels should be the main factors considered when determining how much food they need to eat each day not so much precise food measurements. Neapolitan Mastiff puppy feeding guide

This chart helps you know how often and what type of food to give your puppy. 




Feeding Times for Neapolitan Mastiff Puppies
Some pet parents give their Neos two meals a day after one year, but they do so by dividing the daily amount of food into two portions. A full-grown Neapolitan Mastiff can and usually will consume up to seven cups (56 ounces or 1,750 ml) of high-quality dog food a day. 
Set a feeding schedule for your puppy that you stick to every day. Feed your Neo in the same location and at the same time. During feeding time, leave your pet's food set out for up to twenty minutes. Remove what they don't finish. 
Many parents like to feed their Mastinos at the same time that they eat their meals. Usually, at around 7 a.m., noon, and 5 p.m., but don't feed your pooch after five, so you reduce the chances of potty accidents.

Pro-tip: Neapolitan Mastiff anxiety, aggression, destructive chewing, jumping up, fearfulness, and other behaviors can be controlled with the right training program.
Here's a great course that addresses these issues along with many other dog training basics: Check it out now!
When to Stop Feeding Your Mastiff Puppy Food
Because Neapolitan Mastiffs mature slower than small breed puppies, you'll need to keep your pup on puppy food for a longer time. Most Neos won't transition from puppy food to adult dog food until 18 to 24 months.
Neapolitan Mastiffs should be switched to adult dog food once they've reached adulthood, which varies individually. Your pet's behavior is a good indication that they have fully matured.  
Once in adulthood, your Masstino will stop acting rambunctious and will start listening better. They'll also grow slower or stop growing altogether.

So when do Mastiffs stop growing? Our article here will explain. 


Make the Transition Slowly
Once you've decided it's time to switch your Neo from puppy food to adult food, you'll need to set up a routine that allows you to change slowly over five to seven days. 
Doing an abrupt switch from one food to another can cause your puppy to experience digestive problems, such as tummy aches, diarrhea, and vomiting. 
Follow this rough schedule on how to transition your pet from puppy food to dog food or between different brands. 
Days 1 - 2: 25% new food 75% old food
Days 3 - 4: 50% new food 50% old food
Days 5 - 6: 75% new food 25% old food
Day 7: 100% new food - no old food


Best Dog Food for Neapolitan Mastiff Puppy
When picking a dog food for your Neapolitan Mastiff puppy, there are specific criteria your large breed pooch will need.
Puppies need higher protein than adult dogs. Protein provides your pet with energy and helps build healthy muscles. However, you don't want to give your puppy too much protein, as that can cause a problem with calcium and phosphorus imbalance. 
Look for brands that are lower in fat and calories. Giving your puppy a brand with too many calories and fat can cause him to grow too quickly, leading to potential health problems like hip dysplasia and arthritis. 
Read the label of every dog food to find out crucial information about the nutritional needs it offers. And make sure the food you pick meets the AAFCO guidelines, which ensures your pet will get the proper nutrition. 
Your Neo puppy will need at least 30% protein, 1.5% calcium, and 9% fat. 


Want A Little Cuteness? Check Out These Neapolitan Mastiffs Hiding From Their Dad...



3 Of The Best Wet Mastiff Puppy Foods 
Your puppy should be weaned from his mother by eight weeks old. By six weeks of age, she should be eating wet dog food. Some pet parents mix warm water with dry kibble.
But other parents prefer to use wet dog food, often found in cans. However, once your Neo gets teeth, he needs dry food, as wet food isn't good for your pet's teeth. 
Therefore, you should switch your puppy from wet puppy food to dry puppy kibble by eight weeks.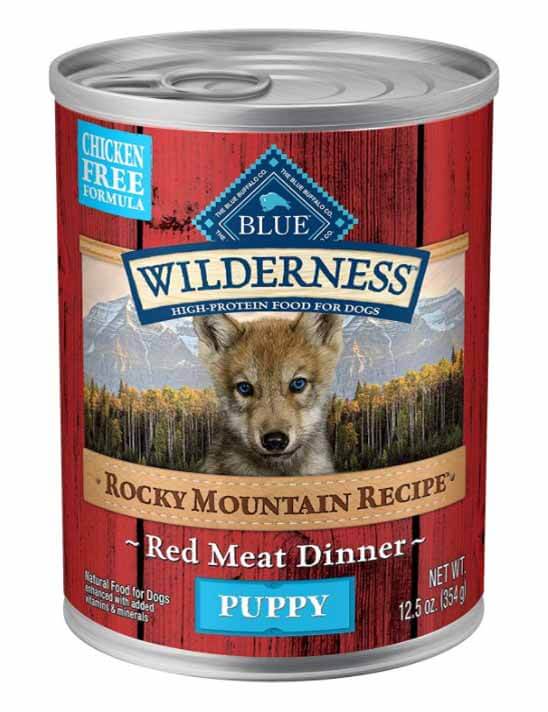 Blue Buffalo Wilderness (from Amazon.com)
The Blue Buffalo Wilderness wet puppy food is grain-free and high in protein, making it optimal for small puppies who are starting to get their teeth. 
Your puppy will get plenty of DHA to promote healthy eyes and brain and zero yucky ingredients like poultry by-product meals, corn, wheat, soy, artificial flavors, or artificial preservatives.
The first five ingredients are the most crucial part of the formula. These are beef, beef broth, turkey, beef liver, and potatoes. 
---
---
---
Wellness Complete Health Just for Puppy (from Amazon.com)
Another excellent choice for wet dog food for your young puppy is Wellness Complete Health Just for Puppy. Wellness doesn't just make puppy food, so it's an excellent brand to start with from the beginning. They make products for adults and senior aged dogs too. 
This formula is acceptable for all breeds of puppies and not just large breeds. So you'll save a ton of money if you have two different sized puppies at the same time by not having to buy separate meals. 
The first five ingredients are chicken broth, chicken, chicken, liver, salmon, and ground barley. Usually, we'd avoid brands that don't list an animal protein as the first ingredient. Neapolitan Mastiff puppy feeding guide
But when it comes to wet puppy food, it's okay to see broth listed first. Wet dog food has more moisture than kibble. 
The guaranteed analysis of this formula is 9% protein, 6% fat, 1% fiber, and 0.04% DHA. There is 247 kcal per 6 ounces can and 515 kcal in the 12.5 ounces.
This brand contains no corn, wheat, soy, or peas. But it is grain-inclusive. There is a considerable debate on whether grain-free is safe for your dog, so never use grain-free formulas without consulting a veterinarian. 
---
---
---
Nutro Puppy (from Amazon.com)

Our final wet puppy food recommendation is Nutro Puppy, which also comes in the flavor of lamb and rice or chicken and sweet potato. 
This grain-free puppy food is also free of corn, soy, wheat, chicken by-product meal, artificial preservatives, colors, and flavors. Neapolitan 

They use non-GMO fresh ingredients, including fresh lamb. The first five ingredients of this puppy food are chicken, pork broth, chicken broth, sweet potatoes, and chicken liver.
The nutritional analysis guarantees your puppy will get the proper nutrition with 9.5% protein, 3% fat, and 1% fiber. Each can have 358 kcal. 


Just Released...
Our Ultimate Mastiff Care e-book is perfect for owners looking for
greater in-depth care information in one convenient downloadable e-book.
On Sale Now for a limited time…Check It Out Here.


3 Of The Best Dry Mastiff Puppy Foods 
Once your puppy is eight weeks old, it's time to switch them to dry kibble. It's best to use puppy food, not just because it provides the proper nutrition, but also because of the size.
Adult kibble can pose a choking hazard to puppies who have just started to eat dry dog food. And it can cause damage to their fragile teeth. Puppy food is softer for easier chewing. 
Many pet parents prefer to keep their puppy on the same brand of dry puppy food that they used for wet puppy food. Neapolitan Mastiff puppy feeding guide
But you can switch to a different brand of dry kibble once it's time if you prefer. Just remember to do the transition slowly. Try any of these four best dry puppy foods.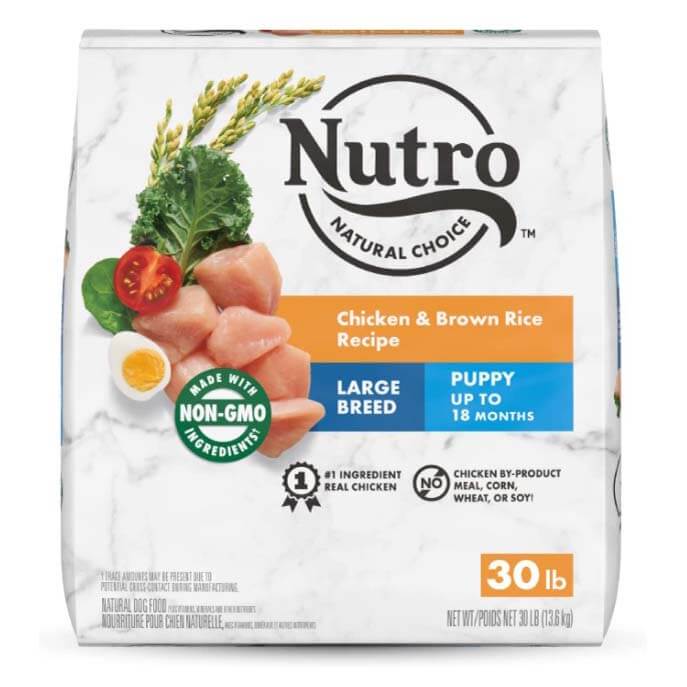 Nutro Wholesome Essentials (from Amazon.com)
First up is Nutro Wholesome Essentials. You'll remember we listed Nutro in our best-wet puppy foods as well. This formula for large breed puppies like the Mastino comes in flavors chicken and lamb. 
This brand includes glucosamine and chondroitin for healthy joints, DHA for brain and eye development, and calcium for healthy bones. Everything your growing Neo will need to grow slow and proper.  
The first five ingredients are chicken, chicken meal, Brewers rice, split peas, and whole-grain sorghum. There is 393 kcal/cup of kibble. Measure your dry puppy food using a standard 8-ounce measuring cup (226.7 grams).


---
---
---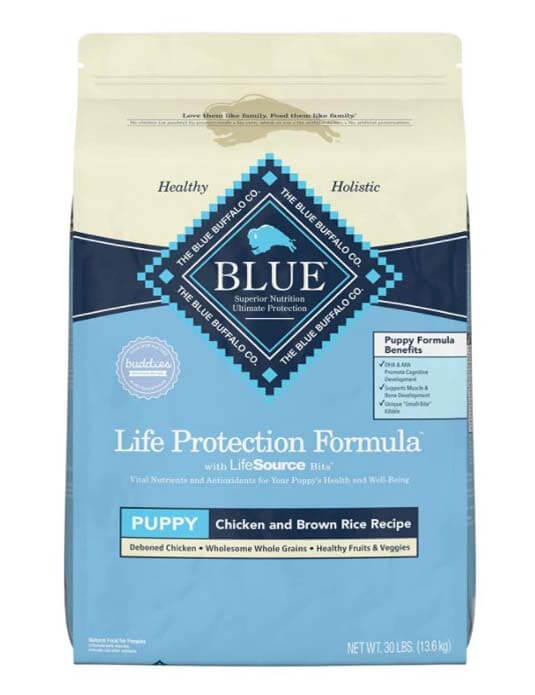 Blue Buffalo Life Protection Formula Puppy Food (from Amazon.com)
Second on our list is Blue Buffalo Life Protection Formula. This puppy food has everything your Mastino will need to have a balanced diet for slow, controlled growth.
Starting with DHA and ARA for the brain and eyes, LifeSource Bits (A blend of antioxidants, minerals, and vitamins) to boost the immune system, Omega 3 and 6 for a healthy coat, and natural ingredients. 
The first five listed ingredients are deboned chicken, chicken meal, brown rice, oatmeal, and barley. But this formula does not contain any poultry by-product meals, corn, wheat, or soy. Neapolitan Mastiff puppy feeding guide
Looking at the nutritional analysis, your Neo will get 27% protein, 16% fat, 5% fiber, 0.10% DHA, 1.3% calcium, 0.04% ARA, 0.75% Omega 3, and 3.0% Omega 6. Each cup contains 398 kcal.
---
---
---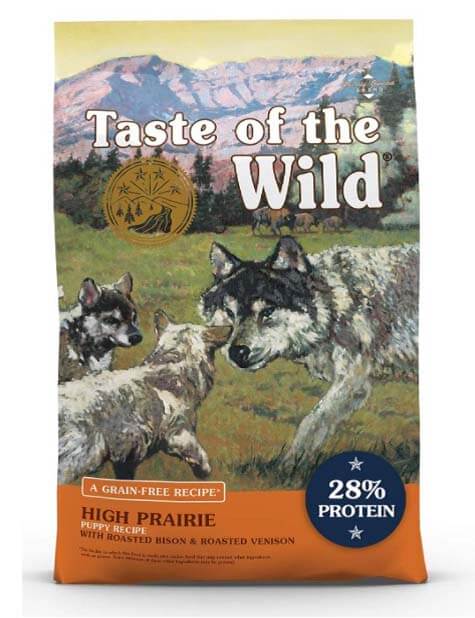 Taste of the Wild Grain Free Premium Puppy Food (from Amazon.com)
Third on our list of the best dry puppy foods is Taste of the Wild Grain Free Premium Puppy Food. Your Neo is sure to enjoy the tasty flavor of bison and roasted venison (deer).
This product contains DHA, loads of antioxidants, and K9 Strain Probiotics - a proprietary blend of probiotics with 80 million live, active cultures to aid digestion. 
The first five ingredients listed are buffalo, lamb meal, sweet potatoes, egg product, and pea protein. But it does not contain grain, corn, wheat, filler, or artificial colors, preservatives, or flavors. 
And the guaranteed analysis shows that your puppy will receive 28% protein, 17% fat, 5% fiber, 0.05% DHA, 2.8% Omega-6, 0.3% Omega-3, and 364 kcal a cup. 
The small pieces will be excellent for your growing Mastino's smaller mouth and teeth. And the kibble will clean their teeth as they eat, improving dental health.


Neapolitan Mastiff Puppy Supplements 
Neapolitan Mastiffs often experience bone and joint problems due to their size, especially if they don't have regulated growth. Because of this, many pet parents use vitamin supplements to provide extra necessary minerals to their pet's diet. 
We've already discussed the importance of glucosamine and chondroitin for healthy bones and joints. Your pup might already be getting these nutrients from his puppy food. But if not, you can buy supplements to mix in with his food. 


We like using a multivitamin like  Primova Multivitamin (from Amazon.com) which includes glucosamine and chondroitin sulfate. But it also has biotin and vitamins A and E and B-complex for a healthy coat. Plus, probiotics to aid in digestion. And Coenzyme Q10 for hip and joint support. Ne

---
---
---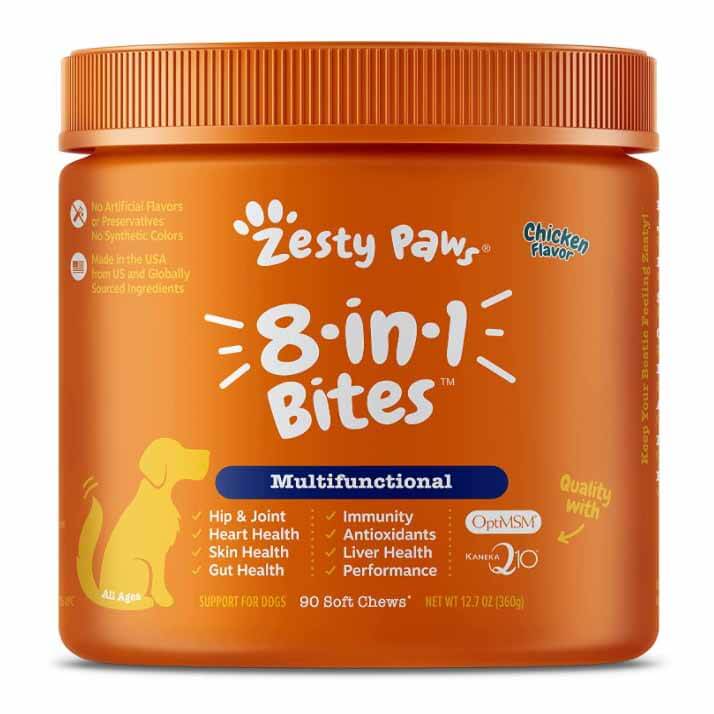 Zesty Paws Multivitamin Treats (from Amazon.com) is another excellent supplement to give to your Neo puppy. This gummy formula contains cod liver oil, biotin, and Vitamin E for healthy skin and coat. It also contains glucosamine, chondroitin, and OptiMSM for joint support. 
Let's not forget Vitamins A, C, and E for a healthy immune system, and digestive enzymes, niacin, and a five-strain Probiotic blend for digestive health. Folic acid and Kaneka Q10 protects the heart. 

Neapolitan Mastiff Puppy Feeding Guide...Conclusion
We've given you everything you need to know about how to properly feed a Neapolitan Mastiff puppy, including what ingredients to choose and which to avoid. Using these tips and any of our recommended puppy foods, your Neo is sure to grow up healthy and happy. 


Neapolitan Mastiff Puppy Feeding Guide