Senior Mastiff Care
A Helpful Care Guide For Aging Mastiffs


When your Mastiff starts to get older and begins slowing down a bit, he won't be able to do all the things he once used to. Every part of his life will begin to change and it's your job to help him through the aging process. By focusing on his health needs, you can make those last few years of his life a little more enjoyable.

Senior Mastiff Care Tips...
Brush their teeth regularly. 
Give them supplements that promote joint health. 
Ensure they're still getting an adequate amount of exercise. 
Make sure they don't gain too much weight. 
Feed them food made specifically for senior dogs. 


As your Mastiff's needs begin to change as he enters into his senior years, you need to be prepared for just about anything. You should know what to look for and how to provide the appropriate care for his new needs since they're not the same as a younger dog of this breed. Read on Below...


Pro-tip: Ever try lifting a Mastiff? Their weight can hurt not only your back but their joints when they hop down from cars, sofas or even your bed. To protect your back and theirs check out the best Mastiff ramps on Amazon.com now.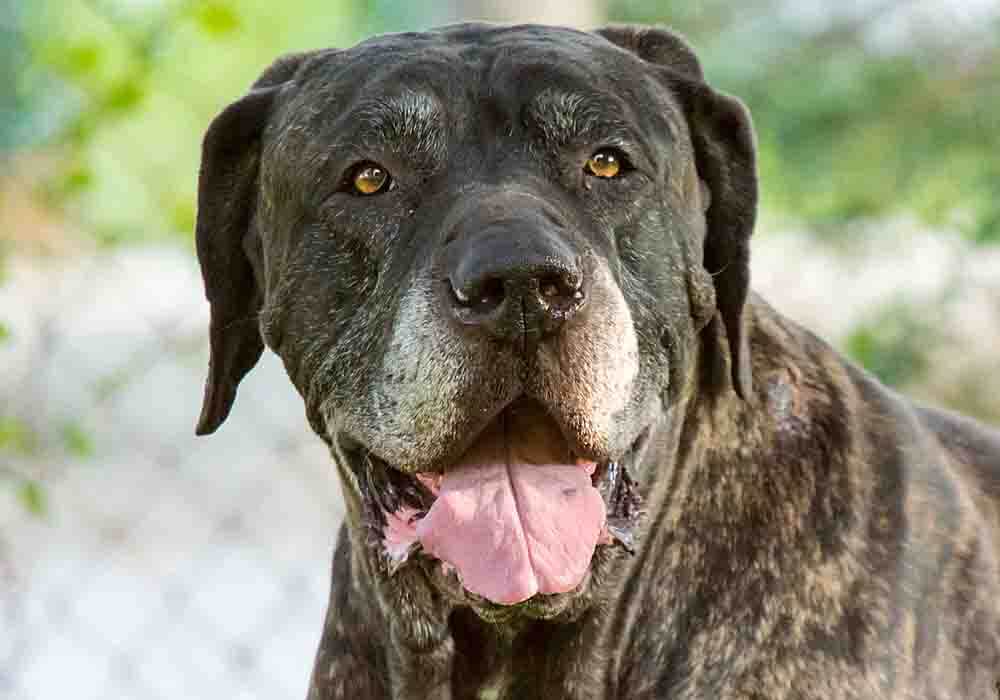 What Senior Mastiff Care Your Dog Needs
Just like humans, the aging process in dogs impacts every region of the body. As your Mastiff gets older and becomes more susceptible to health conditions common in his breed and his new age group, you'll need to take additional steps to maintain an ideal level of health.
It's extremely common for senior dogs to experience trouble getting around and exercising as usual, and many large frame dogs are prone to hip and joint problems. As long as you're keeping a watchful eye on your Mastiff's health and asking your vet the right questions when his annual appointment rolls around, your Mastiff should be able to stay healthy, even in his senior years.


Dental Care
If your senior Mastiff has dental problems, he's not alone! As dogs get older, they're much more likely to develop diseases of the teeth and the mouth. 
To prevent these dental problems from happening in the first place, there are plenty of measures that you can take while at home. Here are a few.
Brush his teeth. If you've already been brushing his teeth since day one, this is the easiest way to keep his mouth healthy without causing a scene. It can be very difficult to introduce something new like brushing his teeth this late in his life. 
Give him toys and bones designed for dental care. Many toys and bones are specifically made to help deal with dental conditions. Some help to scrape off excess plaque while others can make his breath smell better.
Schedule an annual dental cleaning with your vet. Though it'll cost you a bit of money, it's in your Mastiff's best interest to have his teeth professionally cleaned by your vet on a yearly basis. 
It's also important that you look for some of the major signs and symptoms of dental diseases. Those include bad breath, red or bleeding gums, or lack of appetite. If you notice any of these, you should schedule a vet appointment as soon as possible!


Senior Mastiff Hip & Joint Problems
Giant dog breeds like Mastiffs are prone to developing common hip and joint problems such as hip dysplasia. To make matters worse, the hips and joints of senior dogs also gradually begin to deteriorate during the aging process.
Hip dysplasia is one of the greatest health concerns when it comes to Mastiffs. With this condition, your senior Mastiff's hip joint will malfunction and cause a painful grinding between the hip bone and the joint socket.
When this condition is severe, he'll experience a decreased range of motion, hip pain, and stiffness in his rear leg. 
Don't worry, there's plenty you can do to prevent this type of condition! Here are a few precautions you might want to take.
Give your senior Mastiff supplements like glucosamine and chondroitin sulfate to boost joint health.
Make sure he's getting proper exercise and you're not overdoing it.
Keep him at a healthy weight! This condition is most common in obese dogs.
Mastiffs are more prone to these conditions, but that doesn't mean that he has to develop them. By taking the necessary precautions, you can help to prevent the development of these conditions. 


Exercise Needs Of Senior Mastiffs
Your senior Mastiff is much slower than he used to be, but that doesn't mean he can't exercise! In fact, keeping him active within his own physical limitations can help him to stay healthy as he gets older. 
However, there are some things you need to take into consideration now that he's a bit older. Take a look.
Make sure you're not bringing him outdoors in temperatures that are too high or too low.
Allow him to walk on the grass or other soft surfaces, if possible.
Know his limits and don't push him to do what he isn't capable of.
He won't be able to move like he did when he was a puppy, but he still can move! You'll just have to modify the level of activity he was once getting.

Pro-tip: Mastiff anxiety, aggression, destructive chewing, jumping up, fearfulness, and other behaviors can be controlled with the right training program.
Here's a great course that addresses these issues along with many other dog training basics: Check it out now!


Things to Ask the Vet
When you bring your senior Mastiff to the vet for his yearly appointment, it's the perfect time to ask your vet questions about your Mastiff's health. Here are some topics you might want to discuss with the vet.
Changes you should make to his diet
Whether his teeth need a cleaning
Current status of his health
Changes you may have noticed recently
Ultimately, you're the one that spends the most amount of time with your Mastiff. If you've noticed any changes recently, you need to make sure that you bring these up at his vet appointment. senior mastiff care
Remember that you can also schedule a vet appointment at any time. If you're noticing something unusual with your senior Mastiff, don't hesitate to make an appointment!

This Video Has Some Excellent
Additional Senior Mastiff Care Tips...



Feeding Your Senior Mastiff
As compared to the eating habits of the Mastiff puppy you brought home several years ago, your senior Mastiff may no longer be as interested in eating as much. His sense of smell and taste have likely decreased and he now requires a diet that focuses on different nutrients that senior dogs need most.
For Mastiffs especially, you'll need to be giving your senior additional supplements to help prevent the development of chronic health conditions. These supplements can help your dog maintain a clean bill of health well into his senior years.


Changing Dietary Needs
When it comes to senior Mastiff care as your Mastiff enters his senior years, you'll need to change his diet a bit. Senior dogs don't need to be eating as many calories per day and senior dog foods usually provide the nutrients all senior dogs need.
By not changing your Mastiff's diet as a senior, you're putting him at risk for becoming obese and experiencing issues with his joints and hips. This is a direct result of overfeeding. 
You might also notice that his desire to eat is much different. If you notice that he's less interested in eating, you should consider giving him some wet food or adding warm water to his dry food. Both of these methods will improve the taste and his ability to smell the food.


Best Food For Senior Mastiff
When you're transitioning over to senior dry food, you want to make sure that you're giving your Mastiff a high-quality food that'll help him stay healthy for years to come. Here are three of our top choices for senior dog foods.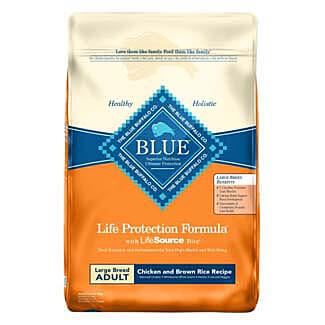 Blue Buffalo Life Protection Formula 
from Amazon.com
This recipe is perfect for your aging Mastiff. Not only does it include glucosamine and chondroitin to help ease the joint pain of your Mastiff, but it also offers an ideal combination of antioxidants, vitamins, and minerals to keep your Mastiff healthy and active for longer!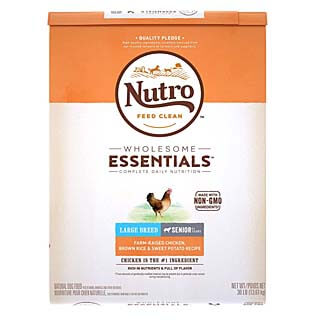 NUTRO Wholesome Essentials Large Breed Adult & Senior Dry Dog Food, Chicken 
from Amazon.com

The recipe for this dry food includes chondroitin and glucosamine but also takes into consideration the actual nutritional benefit of each ingredient. Your Mastiff deserves the best, and that's why this recipe is made entirely of non-GMO, all-natural ingredients.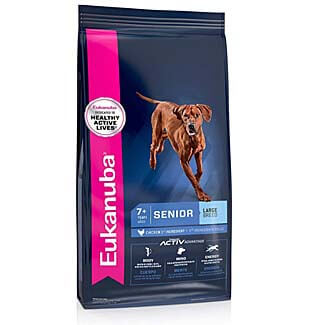 Eukanuba Large Breed Senior Dry Food 
from Amazon.com
This dry food recipe isn't only a great choice to ensure joint and bone health as your Mastiff ages. It also includes approximately 50% more glucosamine than typical senior foods and decent levels of DHA and antioxidants to ensure a strong immune system and healthy organs in your Mastiff.


Adding Supplements

When it comes to senior Mastiff care all senior dogs should be on some type of supplement, but giant dogs like Mastiffs can benefit even more than the average dog. 

Since Mastiffs are more likely to develop hip and joint conditions, you should consider giving your senior Mastiff glucosamine or chondroitin sulfate with his meals. This can help to reduce the symptoms associated with arthritis and regular joint pain.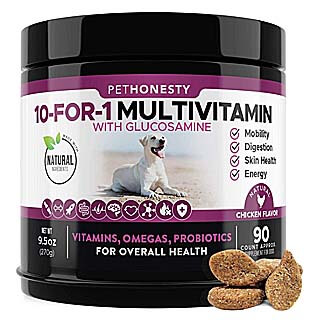 10 in 1 Dog Multivitamin with Glucosamine 
from Amazon.com
With this supplement, you'll be getting the most bang for your buck. In addition to the glucosamine that your Mastiff requires for healthy joints, this supplement also provides your Mastiff with the nutrients he needs to keep his digestive, cardiovascular, and immune systems healthy.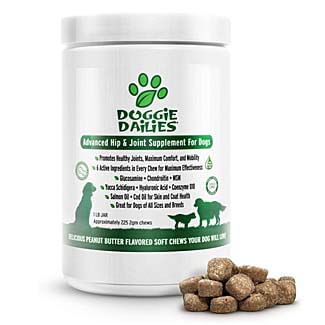 Doggie Dailies Glucosamine for Dogs 
from Amazon.com
This supplement is one of the most comprehensive joint supplements for senior dogs. It contains six ingredients in every serving, each one strategically selected because of its ability to improve joint functioning in senior dogs.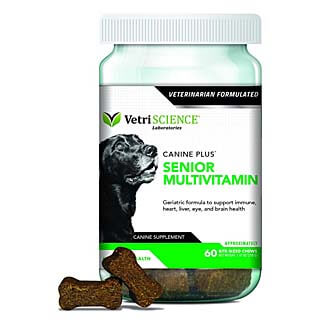 VetriScience Laboratories-Canine Plus Senior Multivitamin from Amazon.com
If you want to address all potential senior dog conditions at once, this multivitamin will come in handy! With over 25 ingredients, you can be sure that your senior Mastiff will have healthier joints, bones, and even cognitive functioning.



Pro-tip: Mastiff's (and their owners) love dog crates…and for good reasons. Crates keep dogs from mischief while you're away, are perfect for house training, for traveling by car, and provide the dog a place to de-stress. Check out the best Mastiff crates on Amazon.com now.


Choosing a Mastiff Dog Bed
When you consider the fact that dogs spend about half of their lives sleeping, you'll understand just how important it is for your dog to have a comfortable bed. That's especially the case when you have a senior dog.

By selecting an orthopedic bed that's friendly on your Mastiff's bones and joints, your senior Mastiff will be much more comfortable as he sleeps and less likely to wake up with joint pain or aches. senior mastiff care


Best Dog Beds for Senior Mastiffs
Your dog loves to sleep and it's time that you invest in a bed that he'll be comfortable in throughout his senior years. Here are three of our favorite dog beds for seniors!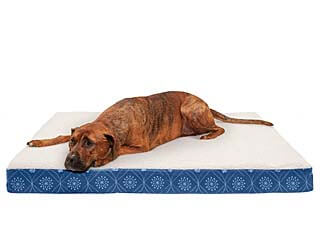 Furhaven Pet Dog Bed | Deluxe Therapeutic Traditional Mat from Amazon.com
This flat jumbo dog bed is designed specifically for dogs with bone and joint conditions, which might just be your senior Mastiff. With an egg-crate foam design, your Mastiff will be much more comfortable as he sleeps, mostly because of the reduced amount of pressure on his joints and bones.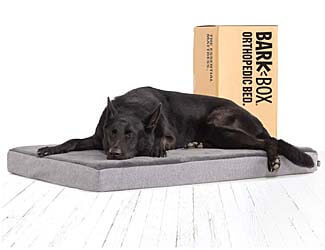 BarkBox Memory Foam Platform Dog Bed 
from Amazon.com
This is one of the highest quality memory foam dog beds currently on the market, and it'll be a perfect fit for your Mastiff! This bed is much larger than many other beds and will provide your Mastiff with superior levels of comfort as he naps periodically throughout the day.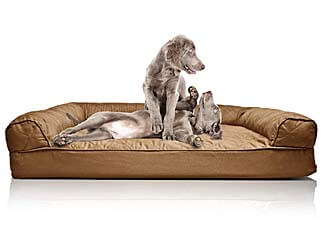 Furhaven Pet Dog Bed | Therapeutic Sofa-Style Traditional Living Room Couch Pet Bed 
from Amazon.com
This bed is perfect for the Mastiff that used to love sleeping on the couch but now struggles to find his way up. With this bed, your Mastiff will be able to get much more comfortable and rest his head or legs on the comfortable padded railings.


Using Elevated Bowls
Now that your Mastiff is older, all daily tasks are a bit more difficult than they used to be. That includes eating meals and drinking water.
When you consider the height of your Mastiff and the distance to his bowls on the floor, you can understand why it might be a little painful for him to bend so far down when he's trying to eat or drink. senior mastiff care
By using elevated dog bowls, you're significantly reducing the distance between his head and his bowl. These will provide your senior Mastiff with greater comfort while eating and drinking without costing you too much money.
It's one of the simplest things you can do to make his life easier as he ages!


Best Elevated Dog Bowls for Senior Mastiffs
Your Mastiff loves to eat and purchasing elevated dog bowls can make his life much easier as he gets older. Here are three solid choices for elevated dog bowls.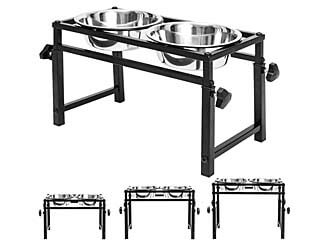 SCENEREAL Adjustable Raised Pet Bowls 
from Amazon.com
It can be hard to find elevated dog bowls that fit the size of a Mastiff, but this product is hard to beat. At up to 16" in height and completely adjustable, you can personalize this raised feeder to significantly reduce the distance between your Mastiff's head and his bowls.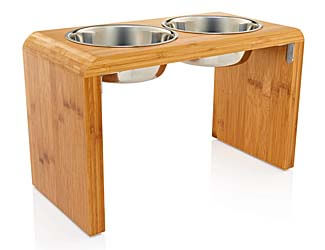 Pawfect Pets Large 12" Tall Elevated Dog & Pet Feeder from Amazon.com
This might just be one of the most durable options when it comes to raised feeders, as it's made of a heavy and durable wood-like material. At 7 pounds and 12" tall, your Mastiff won't knock this feeder over and it'll make it much easier for him to eat when he's a senior.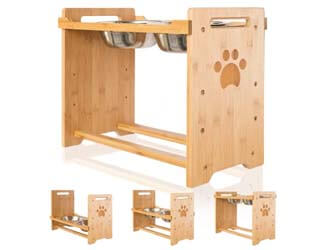 PUPTECK Raised Pet Bowls for Dogs 
from Amazon.com
This feeder is a great option when it comes to heavy-duty adjustable feeders. This feeder can be raised up to 11" and is constructed of a sturdy bamboo material that'll help to keep your Mastiff from accidentally tipping this one over when he's excited about dinner.


Senior Mastiff Care...Final Thoughts
Your Mastiff is most likely your best friend and you'd be willing to do just about anything to make him happy. When he approaches his senior years, you're going to need to put in a little more effort to make this happen. Here are some things you should do to best care for your Mastiff in his senior years.
Keep an eye out for symptoms of chronic health conditions and changes in behavior.
Switch his diet over to a senior recipe and add supplements to his daily routine.
Invest in a high-quality dog bed to make him more comfortable as he sleeps.
Get elevated dog bowls to make eating and drinking more comfortable. 


Senior Mastiff Care