Dogo Argentino Feeding
Guide and Schedule 

From Puppy to Adult
by Ken Alden

Dogo Argentinos are large dogs with big nutritional needs. This breed requires premium pet food packed with vitamins and nutrients to provide them with the ideal diet to grow healthy and strong. 
Dogo Argentino puppies need pet food that is high in protein and calcium for the best results. They should be fed three times per day. Adult Dogos need high-quality pet food with well-balanced nutrients. They should be fed twice per day to aid with digestion. 
Below we will go over feeding Dogo Argentino puppies, adults, and some recommended wet and dry foods for this dog breed. Then take a look at the raw diet and some foods that Dogo Argentinos should never be fed. 


Pro-tip: Ever try lifting a Dogo Argentino? Their weight can hurt not only your back but their joints when they hop down from cars, sofas or even your bed. To protect your back and theirs check out the best Mastiff ramps on Amazon.com now.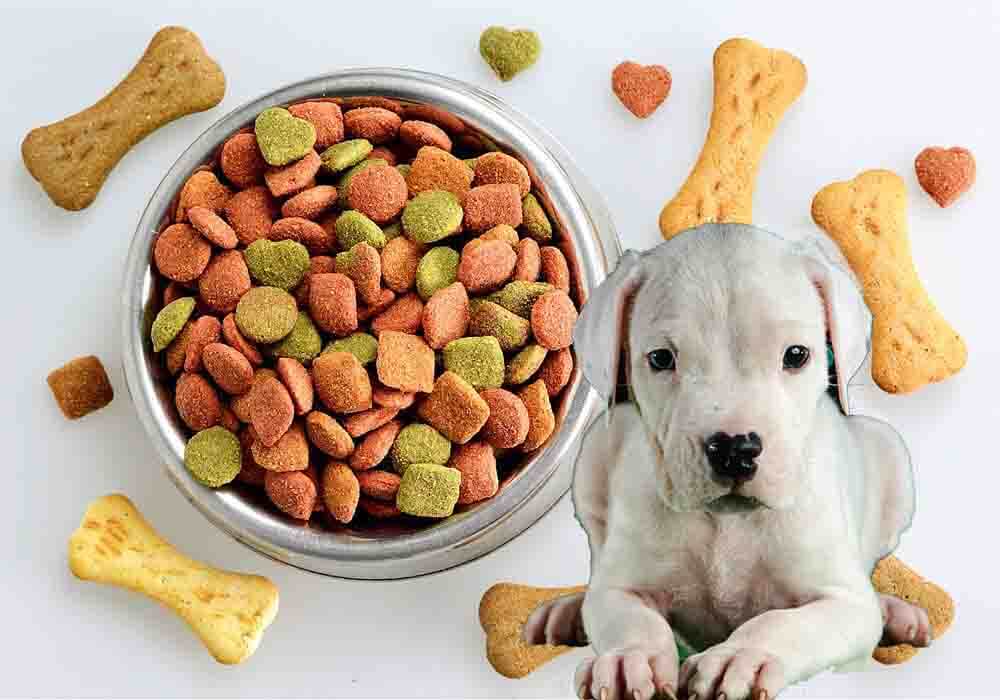 What to Feed a Dogo Argentino Puppy
Dogo puppies need a diet filled with high-quality ingredients to help them develop into healthy adults. Feeding Dogo puppies the proper nutrients can help prevent certain health problems from arising, such as skeletal abnormalities.  
When picking out pet food for puppies, owners need to consider how much calcium, fat, and protein the food contains. 
Large breed puppies need calcium in their food to help their teeth and bones develop. Dogo puppies grow incredibly fast, so if they don't get enough calcium, it can negatively affect their skeletal system. Quality large breed puppy foods should have at least 1.5% (or 3 grams/1,000 kcal) of calcium per serving.
While getting enough calcium is important, owners should only give their dogs the recommended amount since ingesting too much calcium can also be harmful. Excess calcium can cause skeletal deformities, which can have long-lasting impacts on the puppies' developing bones.  
Additionally, Dogo Argentino puppy food should not have excessively high levels of fat. High-fat diets are calorie-dense, which can make Dogo puppies bodies grow faster than their bones. This can harm their skeletal systems and cause long term problems. Dogo puppies should eat pet food that contains around 9% fat for the best results. 
Lastly, these pups need a diet high in protein. Protein is incredibly important for developing healthy bodies and muscles. However, once again, having too much protein can be harmful. Dogo puppy owners should try to find a pet food that is at least 22.5% protein. 
Even more important than the percentage of protein in the food is the source of the protein. Some of the best sources are chicken, rabbit, beef, salmon, and other animal-based proteins. Soy and plant-based proteins are less ideal since they contain fewer essential amino acids than meat. So, it's best to buy pet food with an animal protein source as the first ingredient. Dogo Argentino feeding guide and schedule
Dogo puppies should be fed three small meals each day. Pet parents should be consistent with the times they feed their puppies. Young dogs enjoy structure, so having a feeding schedule will make them feel comfortable and accustomed to their daily routines. Plus, feeding them in increments will help keep their energy levels relatively consistent throughout the day. 

Pro-tip: Dogo Argentino anxiety, aggression, destructive chewing, jumping up, fearfulness, and other behaviors can be controlled with the right training program.
Here's a great course that addresses these issues along with many other dog training basics: Check it out now!


Dogo Argentino Puppy Feeding
The popular dog food company, Blue Buffalo, approximates how much food large breed dogs will need when they are 1 to 12 months old. For dry dog food, they recommend the measurements listed in the chart below. For wet dog food, they suggest feeding ½ to 1 can of food per day for every 10 lbs (4.54 kg) of the dog's weight.


30 - 35 lbs (13.6-15.9 kg)

35 - 60 lbs
(15.9 - 27.2 kg)

60 - 83 lbs
(27.2 - 37.6 kg)

83 - 93 lbs
(37.6 - 42.2 kg)

Dry Food Amount in cups (g)

3½ - 4½  cups (785- 1010 g)

4 - 5 cups
(900 to 1125 g)

Remember, this chart is just an approximation. Pet owners should always talk to their vet and consult their pet foods feeding chart to determine the exact amount their dogs should be fed. The dogs' weights and energy levels should be the main factors considered when determining how much food they need to eat each day. 


How Long Should I Feed My Dogo Argentino Puppy Food?
Dogo Argentinos is known to be a large dog breed. Large dogs take longer than small dogs to mature. This breed is especially slow to mature. Males don't reach their full size until they are two to three years old. Females are a little quicker, taking approximately two years to reach maturity. 
It is generally recommended that large dog breeds switch from puppy food to adult food when they are around 18 to 24 months old. Puppy food provides dogs with the essential nutrients they need while growing, so owners shouldn't take them off too quickly. 

However, it is more calorie-dense than adult food, so keeping Dogo Argentinos on puppy food for too long can lead to obesity. Dogo Argentino owners should consult with their vet to determine when it is the ideal time for their pups to make the switch. 
Best Dog Food for Dogo Argentino Puppy
Dry Food Recommendations For Puppies...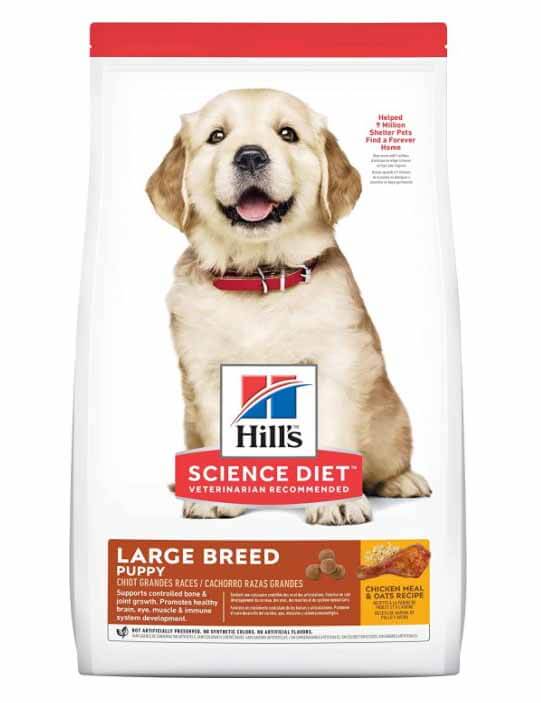 Hill's Large Breed Puppy Food  from Amazon.com
Hill's is a vet recommended dog food that provides large breed puppies with all of the calcium and protein they need to grow big and strong. All of their formulas are made with high-quality protein sources such as chicken and lamb. 
Their wholesome formula is amazing for puppies, providing them with a shiny coat, healthy skin, and firm stool. As a bonus, Hill's Large Breed Puppy Food includes fish oil, which contains DHA. This fatty acid promotes healthy brain and eye development. 
---
---
---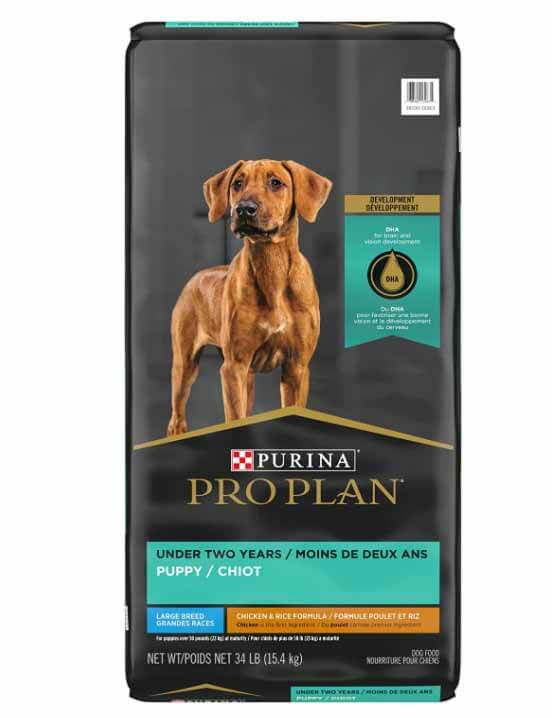 Purina Pro Plan Large Breed Puppy Food 
from Amazon.com
Purina ProPlan is an amazing formula loved by puppies and owners alike. Their large breed puppy food has real chicken as the first ingredient, a high-quality protein source. 
This food also contains glucosamine, an amino that helps aid in the healthy development of joints and cartilage. This is important for Dogo Argentinos since this breed is prone to developing hip dysplasia. 
---
Wet Food Recommendations For Puppies...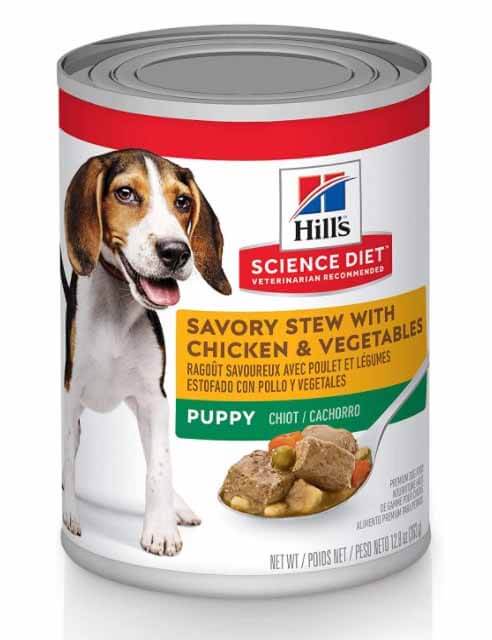 Hill's Science Diet Wet Puppy Food  
from Amazon.com
This awesome meal in a can will have your dog begging for more. This wholesome formula contains natural and easily digestible ingredients that are ideal for growing puppies. This formula is made with real chicken and healthful grains. It also includes minerals and vitamins that encourage strong teeth and bone development in dogs. 
This formula is not recommended for adult dogs over seven years old or obese dogs. So, owners should only feed this to their Dogo Argentinos while they are puppies.
---
---
---
---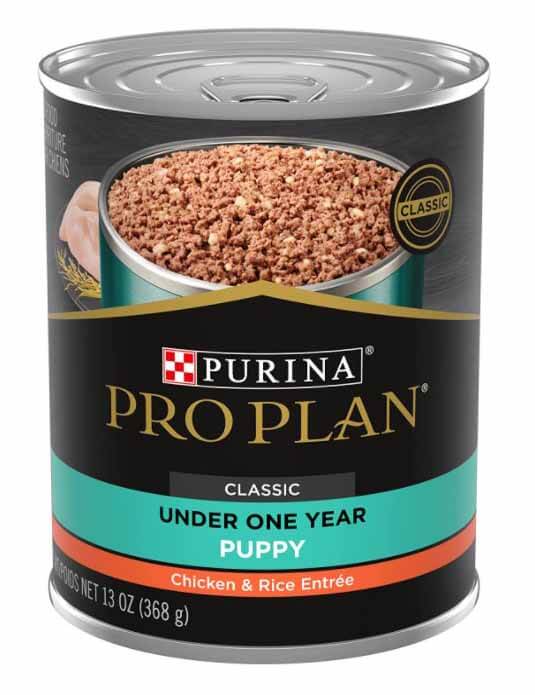 Purina Pro Plan High Protein Wet Puppy Food- Chicken and Rice  from Amazon.com
This amazing wet food includes real chicken and liver as its first and second protein source. It contains ingredients that promote a healthy brain, vision, and immune system development. It also has omega-6 fatty acids, which will make Dogo Argentino white coats look shiny and healthy! 

This high protein formula has a wonderful taste and texture that makes mealtime an enjoyable experience for puppies. Each can is 13 oz (1.63 cups).

Dogo Argentino Adult Feeding
Adult Dogos are large, powerful dogs. Their muscular frames and active lifestyles make it, so they require top of the line pet foods with high-quality ingredients to stay healthy and well-nourished. 
This breed needs ample amounts of protein, vitamins, minerals, and carbohydrates to stay in tip-top shape. However, they shouldn't be overfed, as overeating can cause obesity and a host of obesity-related health issues, such as a shortened lifespan, cancer, bladder stones, and strained joints. Luckily, these dogs typically don't become obese if they get enough exercise. Dogo Argentino feeding guide and schedule
It is generally recommended that owners feed their Dogo Argentino two large meals a day when they reach adulthood—helping them digest their food better than if they were given one huge meal each day. 
When it comes to wet food, Dogo Argentinos need high-quality formulas that contain a lot of protein. Try to find cans with a 5.5% protein level (or more). Pet owners should make sure their pet food has a good amount of calcium, around 1.5%, which will help prevent certain bone diseases and hip dysplasia. 
Many owners choose to feed their dog a mix of wet and dry food since wet food contains less calories. It is generally easier and less expensive to meet their nutritional needs by mixing the two, then it would be as if they were fed wet food by itself. 


Pro-tip: Dogo's (and their owners) love dog crates…and for good reasons. Crates keep dogs from mischief while you're away, are perfect for house training, for traveling by car, and provide the dog a place to de-stress. Check out the best Mastiff crates on Amazon.com now.


Best Dog Food for Dogo Argentino Adult
Dry Food Recommendations For Adults...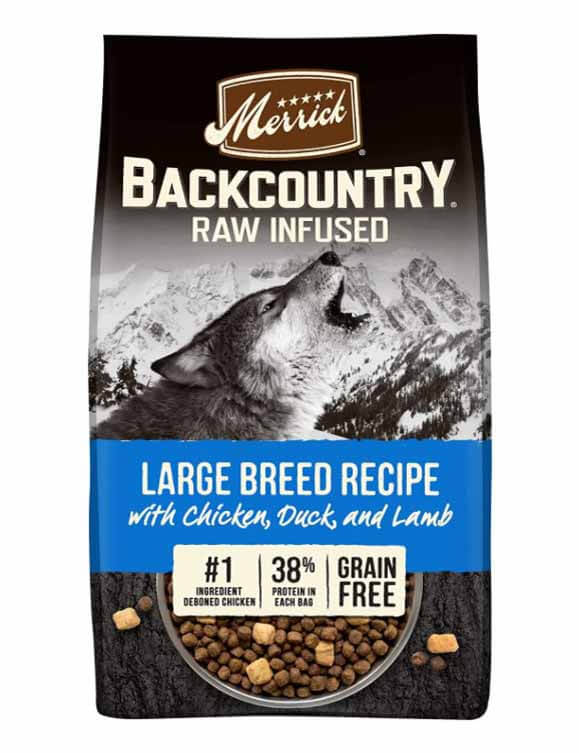 Merrick Freeze-Dried Large Breed Dog Food 
from Amazon.com
Merrick is a locally sourced pet food made in Texas. This high-quality dog food incorporates raw, freeze-dried meats into their formula. Merrick's primary protein source is deboned chicken, which provides the dog with a healthful protein source. 
This formula contains fruits, vegetables, oils, and vitamins, providing dogs with a well-balanced meal. Additionally, Merrick includes glucosamine and chondroitin in this formula, both known for promoting healthy hips and joints. Dogo Argentino feeding guide and schedule


---
---
---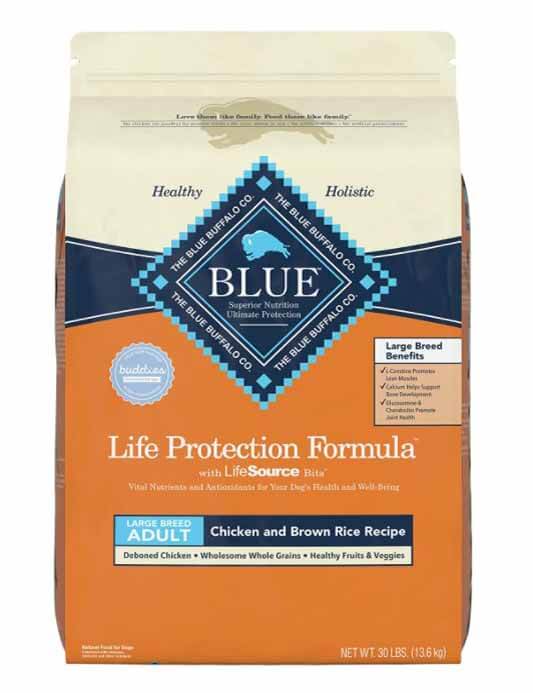 Blue Buffalo Life Protection Formula Large Breed Dog Food from Amazon.com
Blue Buffalo is well known for producing top of the line dog foods. Their life protection formula lives up to those standards! This mix includes high-quality chicken, fish, or lamb as its first ingredient. Blue Buffalo life protection also includes nutritious whole grains, vegetables, and fruits for a wholesome meal. 
Blue Buffalo carefully selected antioxidants, vitamins, and minerals to add to this food. These nutrients have proven benefits, such as improving immune health and providing dogs with the ideal oxidative balance. Blue Buffalo Life Protection does not contain any artificial flavors or preservatives, assuring that every dog is only consuming the best of the best. 
Wet Food Recommendations For Adults...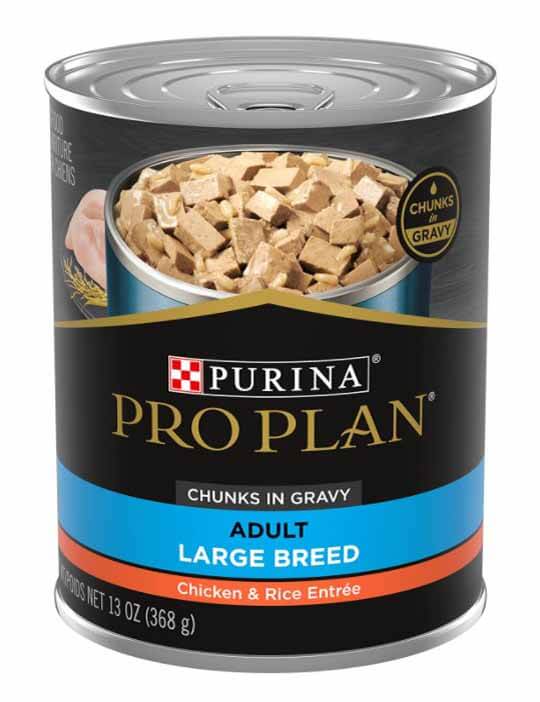 Purina Pro Plan Large & Giant Breed Wet Food  
from Amazon.com
This delicious gravy chicken and rice formula will be a joy for any dog to eat! This nutritious wet food contains 23 minerals and vitamins and rich antioxidants that support dogs' general health and wellness. Additionally, Purina Pro Plan contains omega-6 fatty acids, which makes dogs' coats extra shiny and helps keep their skin nice and healthy. 

These cans are suitable for Dogo Argentinos that weigh 50 lbs (22.7 kg) or more. 


---
---
---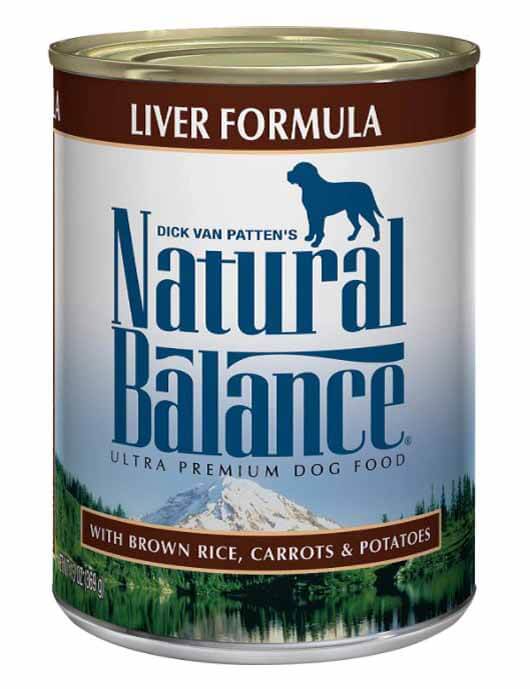 Natural Balance Ultra Premium Wet Dog Food with Real Meat & Brown Rice from Amazon.com
Natural balance is an excellent option for adult Dogo Argentinos. This formula is packed with healthful ingredients, including real beef liver, brown rice, carrots, potatoes, and supplementary vitamins and minerals. 
This premium wet food promotes healthy digestion and helps dogs maintain good muscle health. It does not include any artificial colors or flavors. Dogo Argentino feeding guide and schedule
While this food is great for adult Dogos, it is appropriate for puppies and seniors as well. So, if dogs like this formula, they can keep eating it throughout their lifetime!

Raw Food Diet for Dogo Argentino
Some Dogo Argentino owners and breeders recommend feeding this breed a raw food diet. On this raw food diet, Dogos are fed meals consisting of: 
Raw meat (typically still on the bone) 
Kidney, liver, and other organ meats 
Whole or ground bones 
Raw eggs 
Some vegetables and fruits 
There is a lot of controversy surrounding this diet, with some people advocating for its amazing health benefits and others saying that it is detrimental for dogs' health. 
We will go over the pros and cons of the raw diet below. 


Pros of the Raw Food Diet
There are several potential benefits of the raw food diet. However, most of these benefits have only been reported by pet owners and are not scientifically proven. 
Listed below are some of the potential pros: 
They achieve a shiner and healthier looking coat.
Dogs on this diet are more energetic and less lethargic. 
Their teeth look cleaner, and their skin seems healthier. 
Their stool is small and firm.


Cons of the Raw Food Diet
The raw food diet also has some cons. The risks of this diet are better documented, and some are backed by science. Many vets, pet nutritionists, and even the FDA are not huge fans of the raw food diet and often recommend against it. 
Some of the cons are: 
The bacteria found in raw meat can make dogs or their owners sick. 
Sometimes dogs on the raw diet do not get all of the nutrients they need. This can cause health problems if they stay on a diet for an extended period. 
Some of the reported benefits from the raw food diet don't come from eating raw foods. For example, the shiny coat attributed to this diet is caused by eating meals with higher fat content. This same outcome could be achieved by eating high-fat kibble or by taking supplements to add fat to the diet. 
The bones included in this diet can break a dogs' teeth, puncture their organs, or cause them to choke if not watched carefully when prepared.



Want to learn more about this healthy raw diet for your Dogo? This page of ours has all you need to know. 


What Not to Feed Your Dogo Argentino
There are several foods that Dogo Argentinos (and all other dogs) should not be fed. These foods are bad for their health and can even be fatal if they consume too much. See the list of foods to avoid below. 
Onions, chives, and garlic are very toxic to dogs. They contain chemicals that can harm their red blood cells and cause gastroenteritis, a condition where the intestines' lining becomes inflamed. 
Chocolate is dangerous for dogs. Overeating chocolate can make dogs very sick; symptoms include vomiting, tiredness, muscle tremors, and even death. 
Avocados are a food many people don't realize are bad for dogs. While eating avocados generally isn't fatal, it can cause dogs to vomit or get diarrhea. Dogs and many other animals are intolerant to persin, which is inside avocado's fruit, leaves, seeds, and even its tree bark. 
Xylitol is a sweetener often found in sugarless gum, sugarless candy, and various baked treats. If Dogo Argentinos ingest this, they can experience potentially fatal drops in their blood sugar levels. 


Dogo Argentino Feeding Guide And Schedule...Conclusion
These are large breed dogs with large nutritional requirements. What they eat as puppies and adults is very important. 
As puppies, Dogo Argentinos should eat wet or dry food high in protein and have an ample amount of calcium, which isn't overly high in fat. 
As adults, Dogos require a balanced meal that is suited for their weights and energy levels. Since Dogos are generally very active, owners need to make sure they are eating premium dog food with healthful ingredients to ensure their nutritional needs are met. 
Some owners and breeders prefer feeding their Dogos a raw diet. While many highly recommend this diet, this diet's benefits have not been scientifically proven, and many vets do not support it. 
I hope this Dogo Argentino feeding guide and schedule helps owners feed their pups an ideal diet! 


Return to the top of this Dogo Argentino Feeding Guide And Schedule page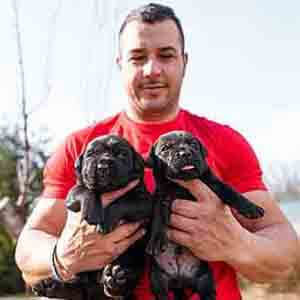 About the Author...
Ken Alden, a dedicated Mastiff owner for over eight
years, is acclaimed for his expertise in care, grooming, and training. Read more About Me and my dog Shadow.


Dogo Argentino Feeding Guide and Schedule