Best Flea and Tick Treatment
and Prevention for Mastiffs


Mastiffs are amazing dogs bred as guard dogs, they can both protect the owner and provide gentle companionship. Mastiffs may be one of the larger dog breeds, but they can be brought low by the smallest of things - fleas and ticks, namely! What are some of the best flea and tick treatments and preventions for them?
The best flea and tick treatment and prevention options for Mastiffs include: 
This article will go into detail about how to identify flea and tick infestations, steps you can take to prevent and minimize them, and the best products available to use.


Mastiff ramps are a great way to save your dog's joints and your back. You can find them on Amazon by clicking here now.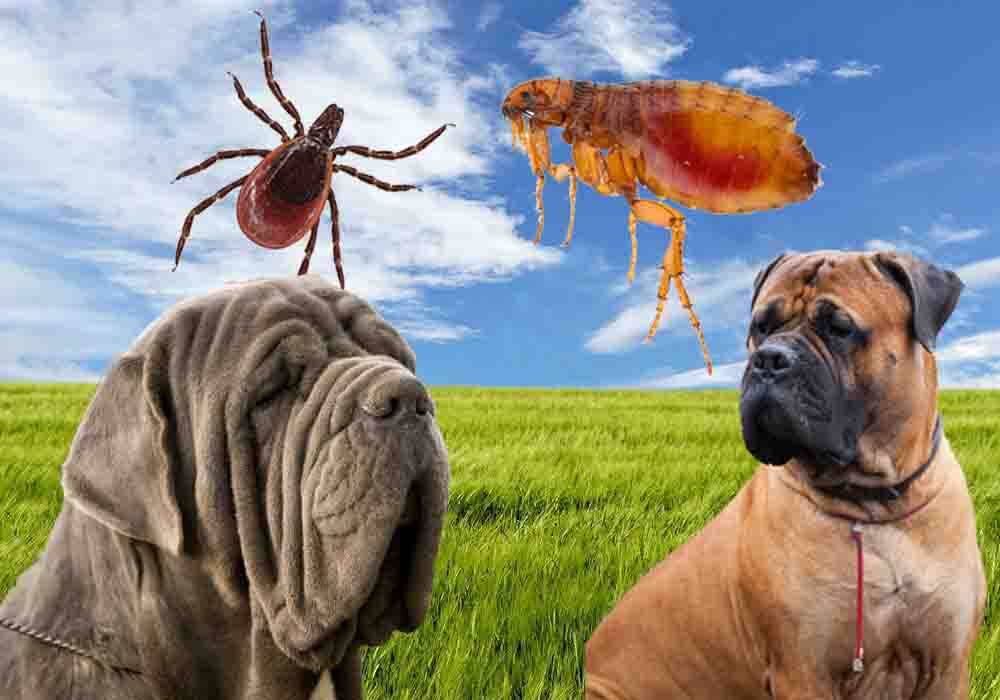 How to Identify Flea and Tick Problems
Though people may know that fleas and ticks are problems for animals and humans alike, not everyone knows how to identify an infestation of them or why they're a big deal.
Fleas can cause flea allergy dermatitis, a serious allergic reaction that happens when a dog has fleas. This condition causes sores and pustules that make your dog itch intensely. Fleas also transmit tapeworms, which are both dangerous and contagious to animals and humans alike.
It's important to know the difference between fleas and ticks, as prevention and removal may differ. Many products nowadays, though, offer protection from both parasites. Some even offer heartworm protection.
A simple technique to prevent parasites like fleas and ticks is to rush your mastiff after they spend time with other dogs. If you take your dog to a dog park or they see other dogs in the neighborhood, they can get infested. And this can happen even if you have a regular brushing and bathing routine! Constant vigilance is required to keep fleas and ticks at bay. Read More Below...


Mastiffs drool over their monthly Super Chewer box from BarkBox which contains Mastiff proof toys as well as treats they love and beefy chews with FREE delivery…Click here now!


Every time you brush your mastiff, be on the lookout for fleas and ticks. Fleas look like black specks about the size of a rice grain that often jump around on animals. This can make them tougher to identify than ticks. If you notice your dog itching or black and red spots on their coat, you may want to check further for parasites. Larvae, especially, can lead to a full-blown infestation.

Ticks, on the other hand, attach themselves to animals (and people!) in one spot and engorge themselves on blood. If allowed to fester, a small tick can grow to an alarmingly large size. Be careful when checking for ticks, as they carry disease and latch onto humans as well. You'll need to inspect your mastiff more closely for ticks than fleas - try a flea comb and check for both!
Gently brush your comb across your dog's coat, making sure you don't press into their skin. If you happen to press into a tick, it can crush its body into your dog and release harmful bacteria. Deer ticks are especially dangerous because they're smaller than other ticks. Deer ticks carry Lyme's Disease, which can be deadly to humans and dogs alike.
If you don't identify any bugs shallowly combing, try a little deeper, but not so deep that you press into the dog's skin. If you don't identify any ticks, your dog might be safe. Fleas can also lay larva in your dog's coat that is hard to identify.
If you identify an infestation of either fleas or ticks or both, there are steps you can take to kill the bugs and prevent them from reproducing and coming back. Even if you aren't sure if your mastiff has bugs or not, prevention options will give you peace of mind.


Harnesses are a much safer way to control your Mastiff and protect their necks than a leash. Find harnesses on Amazon by clicking here now.



Best Flea and Tick Treatment & Prevention Products



Bayer's K9 Advantix II for Large Dogs
Bayer's K9 Advantix II is a topical gel-based treatment option that both kills and repels fleas and ticks. Other top flea and tick gels only kill bugs, so Advantix takes the cake. Some pros and cons are listed below.
Pros
Waterproof 24 hours after application
Kills and repels fleas, ticks, and mosquitoes
Simple application makes using it a breeze
Cons
Can be washed off in the first 24 hours after application
Can't be used around cats
Harmful if ingested, so be careful if you have multiple dogs that lick each other


The Seresto Flea & Tick Collar is a great choice if you don't want to deal with regular applications of medicine. Some key features are listed below.
Pros
Repels and kills fleas, ticks, and lice
Effective for up to 8 months
Non-greasy
Odorless
Safety latch if your dog catches the collar on something
Cons
Being collar-based, it may not be as effective in other body parts
Medicine from the collar can get on you and may not be suitable around children


TropiClean Natural Flea and Tick Shampoo
TropiClean Shampoo uses natural ingredients to kill fleas and ticks while containing cocoa that nourishes your dog's skin. This may be ideal if you're concerned about harsh chemicals in treatments.
Pros
Kills fleas and ticks on contact with natural ingredients
No harsh chemicals
Repels fleas, ticks, and larvae for up to 7 days
Doesn't wash away gel-based treatments if they're over 24 hours old
Pleasant scent left behind
Cons
Not as long-lasting as chemical-based treatments
May wash away gel treatments if used within 24 hours of each other


Capstar Fast-Acting Flea & Tick Tablets
These oral tablets are very effective at killing fleas and ticks, making them a powerful part of your bug-killing arsenal. They should be combined with preventative treatment for best use.
Pros
Starts killing bugs within 30 minutes of ingestion
Kills 90% of fleas and ticks within 4 hours
Can be mixed with food or treats for easy administration
No topical medicines that can harm children or other dogs
Cons
Not a preventative measure
Doesn't repel or keep bugs at bay
Some dogs may resist oral medications


Adams Flea and Tick Carpet Powder
If you're concerned about any fleas and ticks present on your Mastiff getting into your carpet, this powder will ensure your carpet remains pest-free. 
Pros
Prevents fleas and ticks from breeding in your carpet
Long term preventative measure
Kills fleas, ticks, and larvae in all stages
Easy to use
Leaves a citrus scent
Cons
Some Final Thoughts...
Fleas and ticks may be an unsettling discovery on your mastiff, but don't lose hope! As you can see, there exist some fantastic preventative medicines and acute treatments for killing bugs and keeping them away. 
For a topical, gel-based treatment, consider Bayer's K9 Advantix II. This product has a slight edge over competitors because Advantix alone repels insects as well as kills them - the competing Frontline Plus, for example, does not.
If you fancy the idea of a collar you can simply put on your mastiff and forget about, try the Seresto Flea & Tick Collar. It may not be as efficient at treating your dog's entire body because the medicine concentrates around the neck, but it offers protection for 8 months.
As a simple, easy preventative measure, use Adams Flea and Tick Carpet Powder. It won't treat your dog directly, but it stops the parasites from living and breeding in your carpet. This is best used with more acute treatment.
If you're concerned about harsh chemicals in bug treatments, TropiClean Natural Flea & Tick Shampoo is for you. Used regularly with other measures, it will keep your dog smelling and feeling great.
As a final, acute treatment, Capstar Fast-Acting Oral Tablets kill fleas and ticks within 30 minutes and kill 90% within hours. Used with other preventative treatments, it can help solve your mastiff's infestation for good.


Flea And Tick Treatment And Prevention For Mastiffs