Cane Corso Raw Diet Feeding

Helpful Feeding Guide And Charts
For Puppies And Adults
by Ken Alden

Cane Corso raw diet feeding isn't something new, ancient Cane Corsos only ate raw food, which is, perhaps, the biggest reason why they're in better shape than the ones we have today. Wouldn't it be nice if you can provide your dog with the same food choices and eliminate the risks associated with a raw diet? 


Cane Corso Raw Diet Feeding Guidelines...
Overall you should always include four essential nutrients: protein, fat, calcium, and fiber. These nutrients promote proper growth, develop lean muscles, and improve mobility. Others, such as vitamins and minerals, may change, but these four remain the building blocks for a healthy Cane Corso puppy or adult.


Not everything about raw food is good, though, because it also comes with a few disadvantages. So before we go through the basics of this diet, it would be best to learn the perks and perils of raw food for your dog. Read on below to find out whether it'll help or just another hype.

Pro-tip: Ever try lifting a Cane Corso? Their weight can hurt not only your back but their joints when they hop down from cars, sofas or even your bed. To protect your back and theirs check out the best Mastiff ramps on Amazon.com now.


---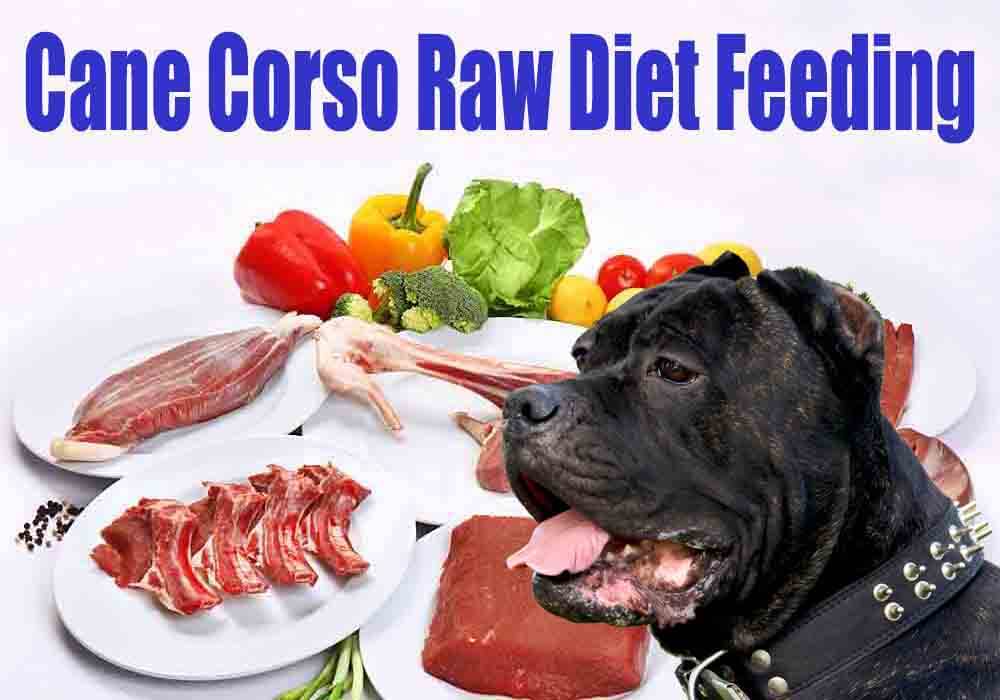 Cane Corso Raw Diet Feeding: The Benefits and the Risks
If you're feeding your Cane Corso raw food, you know what's in the meal. You can see it, inspect it, and calculate its nutrition. Homemade or ready-made, it's a healthier choice than kibble that uses compressed unknown ingredients. It may have its guaranteed analysis label, but you can barely see what its contents are.
Raw food is, indeed, the best option for your dog, but the price could be an issue if you're on a budget. This breed is notorious for its massive size and high consumption when compared with other dogs. That's why some owners prefer working on a mix of raw food and kibble.

You can opt for homemade raw food, which is cheaper, but it'll take a lot of time to prepare. A full-grown Cane Corso needs at least 3.3 lbs of food every day, so it's not something that a lot of owners may find ideal.
 
Pro-tip: Cane Corso anxiety, aggression, destructive chewing, jumping up, fearfulness, and other behaviors can be controlled with the right training program.
Here's a great course that addresses these issues along with many other dog training basics: Check it out now!



The Potential Benefits:
Healthier coat and skin
Cleaner teeth
Smaller stools
Boosted energy levels
Greater owner control over what their dog eats


The Potential Risks:
Bacteria in meats might pose hazard to owner and dog
Unbalanced diet (if not watched closely) may damage dogs health if served for a prolonged period
Potential for whole bones to be ingested if not watched closely
Cost of this type of diet will be expensive and a hassle to prepare…especially considering the large amounts Mastiffs eat daily.

Read here for more of the Pros and Cons of raw diets


Cane Corso Puppy Raw Diet
A healthy puppy is the one that receives essential enzymes to promote growth and improve digestion, together with minerals for bones, joints, muscles, and ligaments. Your puppy can get all of these from a raw diet, plus the following advantages that come with it:
No preservatives and artificial additives — guaranteed!
Raw food is your puppy's natural diet.
You have full control over food choices.
You can reduce the risks of allergic reactions.


Despite these benefits, there are drawbacks that you may want to consider before going all-out on this diet, such as the following:
Raw food is susceptible to bacteria contamination.
Preparing balanced meals can be complicated.
Raw food diets are more expensive than kibble.
You'll spend more time if you want to save up on costs.


Pro-tip: Cane Corso's (and their owners) love dog crates…and for good reasons. Crates keep dogs from mischief while you're away, are perfect for house training, for traveling by car, and provide the dog a place to de-stress. Check out the best Mastiff crates on Amazon.com now.


Cane Corso Raw Feeding Amount, Scheduling And Chart For Puppies
A homemade diet is the best way to get your puppy on a raw food diet, but it's not as simple as giving them what they want when they want. Cane Corso puppies are always hungry, and they can't control their appetite — you have to do it for them.
Different stages of development have diverse requirements and schedules. So to make things easier for you, we've compiled the recommended amount and type of food that you can follow when feeding your puppy. cane corso raw diet feeding c hart


Pot
cheese
120 to 150 grams

Curd
cheese
140 to 160 grams

Curd
cheese
160 to 200 grams

Curd
cheese
200 to 210 grams

Curd
cheese
240 to 250 grams

Curd
cheese
250 to 260 grams

---
Cane Corso Raw Feeding Amount, Scheduling and Chart for Adults
As your Cane Corso grows, their need for nutrition changes, so you'll have to adjust their meal plan. One thing will remain, though; they still won't be able to control their appetite, so you'll have to use this cheat sheet to provide your dog with balanced meals. 


---

Cane Corso Raw Diet Recipes for Your Adult or Puppy
Preparing raw food may be time-consuming, but it's not that hard with a handy-dandy recipe that you can use for puppies and adults. You can do it once a week, then portion it depending on the number of meals.
Here are two recipes that your dog will love:
Liver Brownies
Ingredients:
1 lb of liver (any kind)
1 cup of cornmeal
2 cups of wheat germ
1 tbsp fennel or anise seed
1/2 tbsp of salt

Instructions:
Cut the liver into small chunks.
Mix the ingredients thoroughly in a bowl.
Spread the mixture evenly on a greased cookie sheet.
Bake at 350° for at least 20 minutes.
Leave it for at least 10 minutes
Cut it into small squares, depending on what your dog needs.
Keep refrigerated or put in your freezer to last for a week.
Use it as a special treat for your dog.


Satin Balls
Ingredients:
10 pieces of cheap hamburger with high-fat content
1 large box or 12 cups of cereal
1 large box or 15 cups of uncooked oatmeal
10 eggs boiled for at least 30 seconds
15oz or 425g of wheat germ
1 and 1/4 cup of vegetable oil
1 and 1/4 cup of unflavored molasses
1 tbsp of salt
10 packs of Knox Joint gelatin

Instructions:
Mix all the ingredients, including the eggshell, until you reach an even consistency, similar to a meatloaf mixture.
Roll into meatballs or patties.
Store in a container before placing it in your freezer.
Thaw, then serve raw.


Want additional recipes?
I know my Mastiff appreciates variety as I'm sure yours does too, so here's a page of mine that shares additional tasty raw recipes that won't stay long in your Canes bowl.


Perhaps a raw food diet isn't what you expected? Or maybe you prefer feeding your Cane just a regular healthy packaged diet after all? Then a page worth visiting is our Cane Corso Feeding Guide which will give you schedules, amounts, and food recommendations.
Cane Corso Raw Diet Feeding...Final Thoughts
A raw diet is, undoubtedly, a healthier choice for Cane Corsos. Serving your dog with a balanced raw diet will have the following benefits:
No preservatives and artificial additives!
Raw food is your dog's natural diet.
Safe from any allergic reactions.


Sure, it can be tempting to go all-out on a raw diet, but you'll have to consider a few disadvantages: Cane Corso raw diet feeding
Susceptibility to bacteria contamination.
More expensive than any dog food available.
Time-consuming if you want to cut down costs.


Return to the top of this Cane Corso Raw Diet Feeding page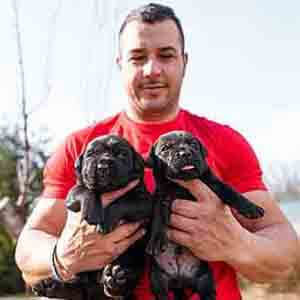 About the Author...
Ken Alden, a dedicated Mastiff owner for over eight
years, is acclaimed for his expertise in care, grooming, and training. Read more About Me and my dog Shadow.


Cane Corso Raw Diet Feeding