Cane Corso Feeding Guide 
Schedules and Amounts
From Puppy to Adult Mastiff

By the time your Cane Corso is about 18 months old, he might weigh a staggering 110 pounds. That means you have to feed your Cane Corso puppy a high-calorie, nutrient-dense diet to help him grow big and strong. But, feeding this breed isn't like feeding any other dog.

Some essential tips in this Cane Corso feeding guide.
Select a food high in protein and low in fat.
Puppies should eat 4 meals a day, working down to 2 a day by adulthood.
Avoid large meals to prevent bloat.
Switch to adult food at about 12+ months.
An adult Cane Corso should be eating between 6 to 9 cups a day.
What you feed your Cane Corso has the potential to impact his health for the rest of his life. So, let's go over below what types of foods you should be feeding your Cane Corso to keep him healthy...


Pro-tip: Ever try lifting a Cane Corso? Their weight can hurt not only your back but their joints when they hop down from cars, sofas or even your bed. To protect your back and theirs check out the best Mastiff ramps on Amazon.com now.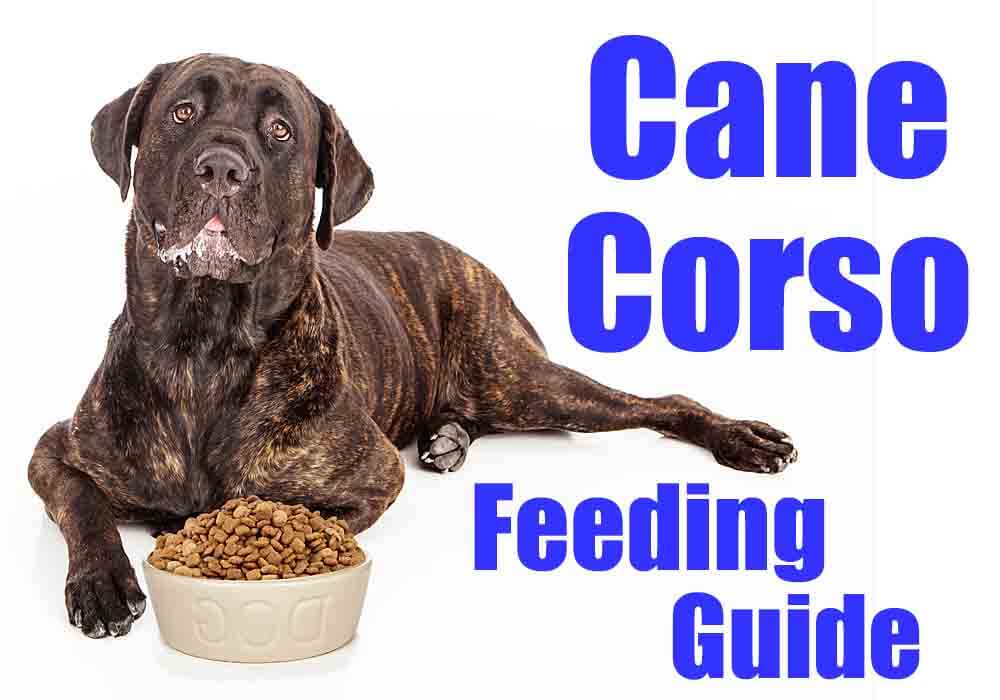 Cane Corso Feeding Guide…What To Feed Them
When it comes to giant dog breeds like the Cane Corso, you need to make sure you're giving your Cane Corso a food high in protein and relatively low in fat. The Cane Corso is prone to developing obesity, so keep an eye on his weight when you switch to a new food.
The best foods will be those that list some source of protein as the #1 ingredient and won't list fat in the first few ingredients. Let's go over some other things you should be on the lookout for when you're choosing a food for your Cane Corso.

Things to Remember...
Calorie count: Not all dog foods have the same number of calories. Some might have only 200 calories per cup, while others have well over 400. The general rule of thumb is that 20 calories per pound of body weight should be adequate for a large breed dog like the Cane Corso.
Joint issues: Your Cane Corso is agile for now, but his large frame makes his joints a little weaker than smaller breeds. Try to find a dry food that targets joint health. The best ingredients to look for are glucosamine and chondroitin, which help to boost collagen levels and joint health.
Balanced: Protein is super important for strong muscles and energy, but all nutrients are important in some way or another. The best foods for your Cane Corso will probably have the term "balanced" somewhere on the bag.
Quality: The cheapest dog food might be the best for your wallet, but isn't the best for your Cane Corso's health. Spend a little extra money on higher quality food recipes to get your Cane Corso's nutrition where it should be.


FREE DOWNLOADABLES...
Track the growth of your Cane with our free downloadable PDFs...
For Males
For Females


Cane Corso Puppy Feeding Schedule And Amount
Your Cane Corso will eventually weigh 100 pounds or more, but that doesn't mean you should just feed him a ton of food as a puppy to help him put on the weight. Puppy food is an absolute must to keep your Cane Corso puppy's growth on track.
So, what should you look for in puppy food? You want a food that's relatively high in protein and doesn't have too much calcium, as this can negatively affect your Cane Corso's joints. Dry kibble is usually the best choice, but some wet food every day will definitely help with growth.

Remember, the feeding amounts below are just an approximation. Pet owners should always talk to their vet and consult their pet foods feeding chart to determine the exact amount their dogs should be fed. The dogs' weights and energy levels should be the main factors considered when determining how much food they need to eat each day.


How to Feed Your Cane Corso Puppy
According to the American Kennel Club, here are some guidelines for feeding a large breed puppy like the Cane Corso.
Between 6 and 12 weeks, feed your Cane Corso 4 times a day.
Start adding in some wet food around the 10-week mark.
Cut back to 3 meals a day around 3 to 6 months.
By the time your Cane Corso is 6 to 12 months, 2 times a day should be sufficient.
Switch to adult food when your Cane Corso is a year or older, but check with your vet first to see that he's ready.

 
So, just how much should you be feeding your Cane Corso puppy? Well, you need to take into consideration how large he'll be eventually. Here are some guidelines for a 100-pound dog, according to Purina.
First 3 months: 1 - 2 ⅔ cups per day
4-5 months: 3 - 3 ¾ cups per day
6-8 months: 3 - 5 ⅓ cups per day
9-11 months: 4 - 6 cups per day
12-24 months: 6 - 9 cups per day
Add an extra ⅓ cup of food per day for every additional 10 pounds over 100 pounds. Also, remember that you will be switching over to adult food after about the year mark, so consult with your vet about food changes.


Wet vs. Dry Food
Dry food is definitely the best choice, as it's more convenient to serve and definitely much cheaper. It also seems to be better for dental health. But, it's much less nutrient-dense. 
Wet food is great if you want to ramp up the protein levels in your Cane Corso's diet and encourage him to eat more. However, it is a lot more expensive.
Your best bet? A mix between the two. Just make sure you're checking the calorie content of your wet and dry food, so you're not overfeeding your Cane Corso.


Other Helpful Information...
When writing this article there were many additional things pertaining to puppy feeding that I wanted to share. So instead of making this a super long article I branched off and wrote this additional helpful guide to puppy feeding. 

With these two articles you'll fast become a mastiff feeding genius! :-)


Pro-tip: Cane Corso anxiety, aggression, destructive chewing, jumping up, fearfulness, and other behaviors can be controlled with the right training program.
Here's a great course that addresses these issues along with many other dog training basics: Check it out now!



Cane Corso Adult Feeding Schedule And Amount
When you make the transition to adult food, it can be a little tricky. Calorie counts for different dry foods range greatly, so you want to make sure you're sticking to about 20 calories per pound unless your vet notifies you otherwise.
In terms of how much you're feeding your Cane Corso a day, Purina suggests feeding about 4 ¼ cups of dry food for a 100-pound dog. Adding an extra ¼ cup for every additional 10 pounds, most Cane Corsos will do just fine with up to 4 ½ cups a day or fewer.


Free Feeding vs. Meal Feeding
As much as it might be easy to just leave a bowl of dog food out in the morning, Cane Corsos are prone to developing bloat. 
Bloat is a condition where the stomach fills up with too much gas and food. At a certain point, the stomach actually flips over on itself and traps the excess air and food in the stomach. This deprives blood flow to the rest of the body and can prove to be fatal.
Large meals make bloat much more likely, so it's best to feed your Cane Corso several small meals a day. That means dividing your Cane Corsos 4 ½ cups of dry food into 2 to 4 smaller meals a day.


Extra Supplements
Even though your Cane Corso is probably meeting his joint needs with his large breed dog feed, it doesn't hurt to get some extra assistance, right?
It would be a pretty good idea to start giving your Cane Corso glucosamine and/or chondroitin soft chews once he reaches adulthood. This is a solid way of keeping his joints lubricated, mobile, and completely functional.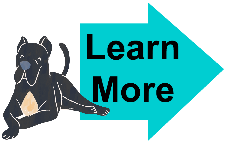 We've written a helpful article discussing all the suppliments your Cane will need and can use. They're a big dog that (unfortunately) have a short lifespan and deserve not only the right food but also the best suppliments.



Here's What You Can Expect Feeding To Cost...



Best Dog Food For A Cane Corso: Our Recommendations
Feeding your Cane Corso the right food is important for extending his lifespan and preventing obesity and joint conditions. Even though you might want to save a little cash, cutting corners can really be detrimental to your Cane Corso's health. So, here are the best Cane Corso foods. 


Best Food For A Cane Corso Puppy Wet And Dry
The best Cane Corso puppy foods are loaded with protein for muscle growth, antioxidants for immunity, and omega fatty acids for coat and skin health. We did our best to include foods designed purely for the dietary and nutritional needs of a large puppy like a Cane Corso. All of the links below will take you to Amazon.com


Best Dry Food For Cane Corso Puppies




Hill's Science Diet Large Breed Puppy Lamb Meal & Brown Rice Recipe from Amazon.com 

When you want just the right amount of calcium for bone growth, but not too much where it'll impact your Cane Corso's fragile joints, choose Hill's. The added DHA also helps to boost brain and eye health while the antioxidants are perfect for a resilient immune system.
Royal Canin Large Puppy from Amazon.com
We all want a Cane Corso that's strong, flexible, mobile, and agile, which is why Royal Canin is on our list. The antioxidants and vitamins are great, but the prebiotics designed to boost digestive system health (plus the easily chewable kibble) are what set this food apart.
Best Wet Food For Cane Corso Puppies




Purina ONE SmartBlend Natural Puppy from Amazon.com
There's no doubt that your Cane Corso pup will absolutely love this smooth and savory ground lamb and rice recipe. It has absolutely no by-products or fillers and is great for improving skin, coat, brain, and immune system health through a quick and tasty meal.
---
Purina Pro Plan FOCUS Chicken & Rice Entree from Amazon.com
What we like most about this recipe is that real chicken is listed as the first ingredient, meaning your Cane Corso's muscles will thank you. Your Cane Corso will love the texture of this ground recipe, but you can also opt for the grain-free turkey or chicken recipes for even better results.
---
Just Released...
Our Ultimate Mastiff Care e-book is perfect for owners looking for
greater in-depth care information in one convenient downloadable e-book.
On Sale Now for a limited time…Check It Out Here.



Best Food For A Cane Corso Adult Wet And Dry
The best Cane Corso adult foods are balanced with all of the essential nutrients and only include ingredients that truly need to be there (aka, no filler ingredients, GMOs, artificial flavoring). 
We also made it a point to choose recipes that included glucosamine (and/or chondroitin) and extra ingredients for a healthy immune system and digestive tract.


Best Dry Food For Cane Corso Adults




Nutro Ultra Large Breed The Superfood Plate from Amazon.com
What makes this recipe unique is that it has three different protein sources for optimal muscle maintenance: Chicken, lamb, and salmon. This is a balanced recipe infused with 15 superfoods (including kale and blueberries) and absolutely no GMOs, by-products, or artificial ingredients.
---
Blue Buffalo Life Protection Formula Large Breed from Amazon.com
You have three flavor options with this food: Fish and oatmeal, chicken and brown rice, and lamb and brown rice. The ingredients were thoughtfully chosen by vets to include whole grains, fruit, vegetables, glucosamine and chondroitin (for joints), and omega fatty acids for coat care.
---
Purina Pro Plan Large Breed Adult from Amazon.com
This recipe is absolutely filled to the brim with everything your Cane Corso needs to thrive. The chicken is perfect for muscular health, the glucosamine is ideal for preventing arthritis and hip dysplasia, and the prebiotic fiber from wheat bran is great for optimal digestion. It's also low-fat!
Best Wet Food For Cane Corso Adults




Purina Pro Plan Large Breed Adult Beef & Rice Recipe from Amazon.com
Whether your Cane Corso prefers ground or chunky wet food, there are options with Purina Pro Plan. This specific recipe is created with high-quality genuine beef for strong bones and joints and is considered a balanced recipe, meaning it's great for immunity and coat health too.
---
Blue Buffalo Wilderness High Protein Grain Free Turkey & Chicken Grill from Amazon.com
The unique flavor options are what sets this product apart from the rest, giving you a choice between grain-free turkey and chicken, duck and chicken, trout and chicken, and regular turkey and chicken. It's made of all-natural ingredients with absolutely no by-products or grains either.
---
NUTRO Kitchen Classics Adult Premium Loaf from Amazon.com
For a truly nutritious wet food, you have to try this turkey, sweet potato, and green bean infusion (also comes in beef, chicken, and lamb). This recipe includes farm-raised turkey as its number one ingredient and doesn't include any GMOs, additives, fillers, or artificial ingredients.


Other Helpful Information...
With there being so many great food choices on the market today, and wanting to be thorough, I wrote a page reviewing additional choices of some excellent dog foods for Mastiffs.

This will give you a better idea as to what's out there, as well as what to be looking for when it comes to ingredients and pricing. 


Cane Corso Raw Feeding
Many Cane Corso owners swear by the raw food diet. That's because this diet is known to improve coat appearance, strengthen the teeth, improve muscle mass, and boost energy levels. 
This diet literally consists of feeding your Cane Corso raw meat, vegetables, and fruits. Ultimately, the goal is to feed your pup a diet that's truly all-natural and doesn't include any processing at all.

Here's an article I wrote about this raw feeding diet to not only let you know what this diet is all about, but also to give you a solid start on what is considered by many to be the healthiest way to feed your Cane Corso.


How Much Will Feeding My Mastiff Cost?
Though the majority of this article pertains to how much food to serve as well as the best type and even the best scheduling, no doubt you've wondered how much you can expect to pay yearly in food costs.

You can expect to pay between $1200-$1600 yearly, possibly a bit more depending upon food quality and amounts.

To go deeper into this you'll appreciate our article which dissects food costs further and even offers cost comparisons between processed and raw food diets.


Conclusion...
The Cane Corso is a massive dog that requires a lot of food, but not just any food will do. You need to make sure you're feeding your Cane Corso the right amount and the right type of food. Here are some final feeding recommendations for your Cane Corso.
Foods high in protein, vitamins, minerals, antioxidants, and omega fatty acids
More meals a day with smaller portions to help prevent bloat (2 to 4 should be okay)
Wet and dry food for puppies, but you can transition wet food out as he gets older
Foods with glucosamine and chondroitin for joint health


Cane Corso Feeding Guide