Cane Corso Vitamins and Supplements
Here's Some Top Choices For Healthy Joints
And A Happy Cane
When it comes to Cane Corso vitamins and supplements you should consider if your Cane Corso may need them, because just like humans, dogs may need help to get all of their nutrients.

Cane Corso Vitamins And Supplements...Why Give Them?
Supplements and vitamins can help support the dog's hips and other joints. Vitamins can help with that as well as forming a healthy coat and skin. The best supplements should help without harming your dog, especially as a puppy. That way, the dog can grow and be happy and healthy.


If you want to give your Cane Corso the best possible care, you may need to give vitamins and supplements. Since they will get big, Cane Corsos can have joint problems, but a good supplement can help. Read on to learn more...


Pro-tip: Ever try lifting a Cane Corso? Their weight can hurt not only your back but their joints when they hop down from cars, sofas or even your bed. To protect your back and theirs check out the best Mastiff ramps on Amazon.com now.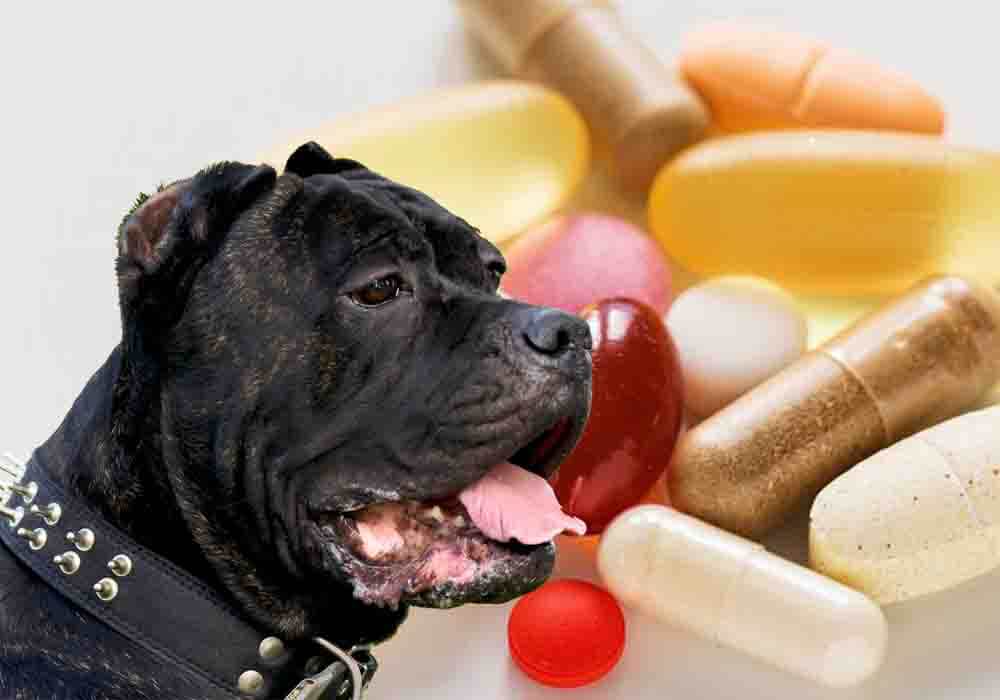 Best Cane Corso Joint Supplements
Because a Cane Corso can top 100 pounds (45.4 kg) as an adult, they can put a lot of stress on their joints. You should have some joint supplements on hand in case your dog appears to have joint problems or pain.
That way, you can give your dog a joint supplement for extra support. While you may not need one when your Cane Corso is a puppy, as they grow, it can help your dog feel better.
You can find a lot of formulas for supplements, like tablets or capsules. But soft chews are easy for your dog to consume. Then, you don't have to worry about them spitting out the pill.

It's always wise to consult with your veterinarian before choosing a joint supplement.

Here's a few excellent ones to consider...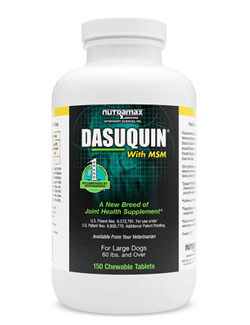 Nutramax Dasuquin With MSM Chewables 
from Amazon.com
Nutramax Dasuquin with MSM Chewables is excellent for large dogs. The chewable is a comprehensive joint supplement with a plant lipid that is safe for dogs to consume. It uses a unique list of ingredients to relieve your dog's joints and keep them active.
The formula also contains MSM, which is another popular supplement to help with joint pain. Ingredients also include green tea extract and Boswellia serrata extract. The chewables taste good, so your dog can enjoy them as a treat.
When you first give the chews, you can give two tablets per day for four to six weeks. After that, you can maintain the dose with one chew per day. The initial period is to help your dog respond to the supplement, but your dog may need more or less supplementation.


---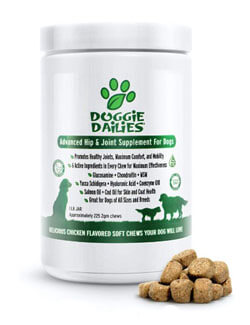 Doggie Dailies Glucosamine for Dogs 
from Amazon.com
Another option for the best Cane Corso joint supplements is Doggie Dailies Glucosamine for Dogs. It contains ingredients like MSM and glucosamine to help your dog's hip and joint health. Other ingredients, like Vitamin C & E and Omega 3 & 6 can help your dog's skin and coat.
These supplements can support healthy joints but also relieve pain and prevent future joint pain for your dog. They can also help restore your dog's energy and mobility. You can choose between chicken and peanut butter flavors, and your dog should improve in a few weeks.
Dogs of any age can take the chews, but you will need to increase the amount as your Cane Corso grows. By the time they hit 75 pounds (34 kg), you should give your dog 6 chews per day to support their joints.
Pro-tip: Cane Corso anxiety, aggression, destructive chewing, jumping up, fearfulness, and other behaviors can be controlled with the right training program.
Here's a great course that addresses these issues along with many other dog training basics: Check it out now!


Best Vitamins for Cane Corso
You may also want to give your dog a vitamin supplement. While joint supplements can help your dog's hips and joints, your dog may need help with digestion and getting all of their essential nutrients.
Now, you should choose the best food for your dog that contains a variety of nutrients. But vitamins can help if your dog has health problems or doesn't get enough nutrients from their food.
Be sure to consult with your veterinarian before choosing a vitamin supplement. Still, here are a couple of options to consider.


Just Released...
Our Ultimate Mastiff Care e-book is perfect for owners looking for
greater in-depth care information in one convenient downloadable e-book.
On Sale Now for a limited time…Check It Out Here.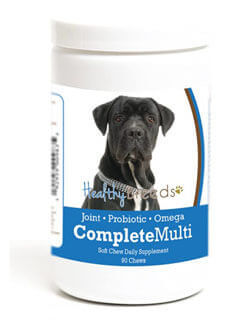 Healthy Breeds All in One Multivitamin Soft Chew from Amazon.com
The All In One Multivitamin Soft Chew from Healthy Breeds are an excellent vitamin for your Cane Corso. These vitamins can help support your dog's joints as well as their skin, coat, and digestion. If you find your dog has rough skin or digestive issues, a chew could help.
The formula contains glucosamine and chondroitin to help with joint and hip support. Omega 3 can help your dog have a healthy coat and skin. Also, the chews include good bacteria that can work as a probiotic.
Your dog can enjoy eating the chews since they have a great taste. You can give up to eight chews per day, depending on your Cane Corso's weight. Consider dividing the chews between morning and evening meals.


---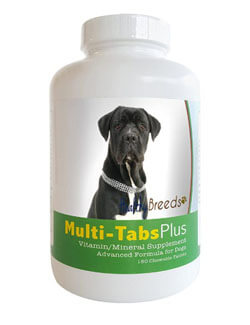 Multi-Tabs Plus Chewable Tablets 
from Amazon.com
If your dog has a good joint supplement but needs another vitamin supplement, you can give them Multi-Tabs Plus Chewable Tablets. This supplement can prevent or reverse nutritional deficiencies and help their overall health.
The tablets are also great if your dog's skin or coat is rough because taking the supplement can help with that. They also contain plenty of protein to help your dog build strength and feel more energetic.
You can give your dog one tablet per day, and you can give it by hand or crumble the pill and mix it with your dog's food. That way, your dog can get its essential nutrients easily.
Cane Corso Puppy Supplements
If you have a young Cane, you may also want to consider Cane Corso vitamins and supplements for puppies. Joint supplements and vitamins can come in handy as your dog is growing. That way, you can make sure your dog hits a healthy weight and can move around well.
Of course, you should choose a good dog food to support your puppy. But since their needs can change fast, a supplement may help you if you can't change foods fast enough. You can supplement your dog as they get bigger until you're able to smoothly transition the puppy to adult food.
One specific supplement that a Cane Corso puppy could use is calcium. As the dog's bones grow, they need enough calcium to form healthy bones. That can help them support their joints as an adult, so you may not need to use as many joint supplements later.
But talk to your vet before you give your puppy any supplement. You need to make sure that you're giving them something that won't harm their growth.


What are a couple of good Cane Corso puppy supplements?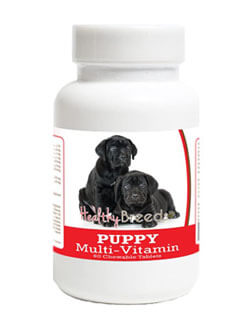 Healthy Breeds Puppy Multivitamin Chewable Tablets from Amazon.com
Cane Corso puppies need enough nutrition since they grow rapidly. The Healthy Breeds Puppy Multivitamin Chewable Tablets are packed with protein, iron, copper, zinc, and loads of vitamins. Each tablet has up to 10% moisture to prevent digestion issues and make them easier to chew.
Puppies under 11 pounds should take one tablet per day, where Cane Corsos over 11 pounds should follow the provided guidelines. Your dog can take up to 4 tablets per day if they're over 30 pounds. Once they're big enough, you can try the previously mentioned adult Cane Corso supplements.


---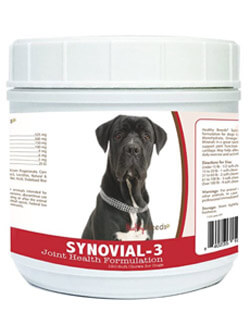 Synovial-3 Joint Health Formulation Soft Chews from Amazon.com
Synovial-3 Soft Chews are crucial for your puppy's long-term growth. Much like all other large dog breeds, Cane Corsos are prone to hip dysplasia and many other joint and muscle problems. By giving them these supplements while they're young, they'll develop strong joints, muscles, and bones to keep them active and healthy throughout their lives.
These soft chews also have vitamins, minerals, and Omega-3 fatty acids. Together, these supplements promote good heart health, energy levels, and a shiny coat. Your puppy will have everything they need from these chews (aside from water and their regularly scheduled diet).
Does a Cane Corso Need Vitamins and Supplements?
You may also want to consider if your Cane Corso even needs vitamins and supplements. Some dogs can get around just fine and have all of their nutrients in their food. But some dogs have joint problems or other health conditions that require supplementation.
Consider what ingredients your dog's food contains and see if they need anything specific. Then, you can talk to a vet for more specifics to help your dog.


Cane Corso Vitamins And Supplements...Final Thoughts
Cane Corso vitamins and supplements can help your dog feel better. But you should look for the best options so that your dog can enjoy the supplement. That way, your dog can take advantage of all of the benefits of supplements.


Return to the top of this Cane Corso Vitamins And Supplements page


Cane Corso Vitamins And Supplements